Got to Gamehole con Friday and Saturday to good effect.   Yet, again I think it's the best con in Wisconsin aside from Gary Con, which is great on account of it's location in Lake Geneva and it's focus on old school RPG's (which includes the current incarnation of D&D).
The dealer hall was small, but had a good selection. There was one vendor that had superlative deals on board games (like you'd see on Amazon) and that was a feeding frenzy. I had to get out of there without spending anything, but my friend's certainly did.
Friday was all board games, all damn day and it was great. I like to try stuff either from my collection or from other people's that I haven't tried before so that's what we did.  Saturday we played Numenera for half the day and then got back into the board games.  ALL of my events were apparently cancelled so I wasted some money on those.  Michael Curtis's DCC events were all gone, so that sucked.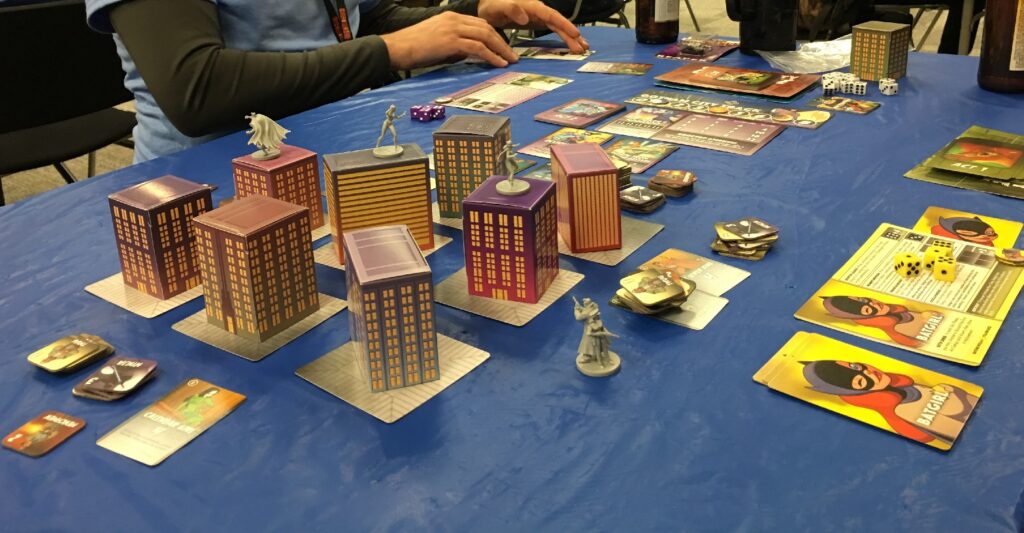 First up was a co-op called Batman the Animated Series.  Most of the time I despise the co-op games and avoid them as much as possible on account of the quarterbacking issue and most of them are pretty boring after more than one or two plays.  This was a decent game.  Moved fast, was not super quarterbacky and we were playing with the designer (Mike) who did give suggestions on what to do, but he wasn't like I would be if I knew the game (i.e.: terrible).    Actions are definitive and you can really do a lot of crazy stuff in order to meet the Act's goals.  The buildings are neat but they block line of sight to the other parts of the city a bit if you are sitting down.  I could see this 'engine' being great for a game of alien invasion (say the Invid from Robotech) BUT where each player has a secret goal as well as the goal of saving the world to shut down any possibility of quarterbacking.
Matt caught Eric Lang walking around and talked to him about Rising Sun (a great game) and other stuff.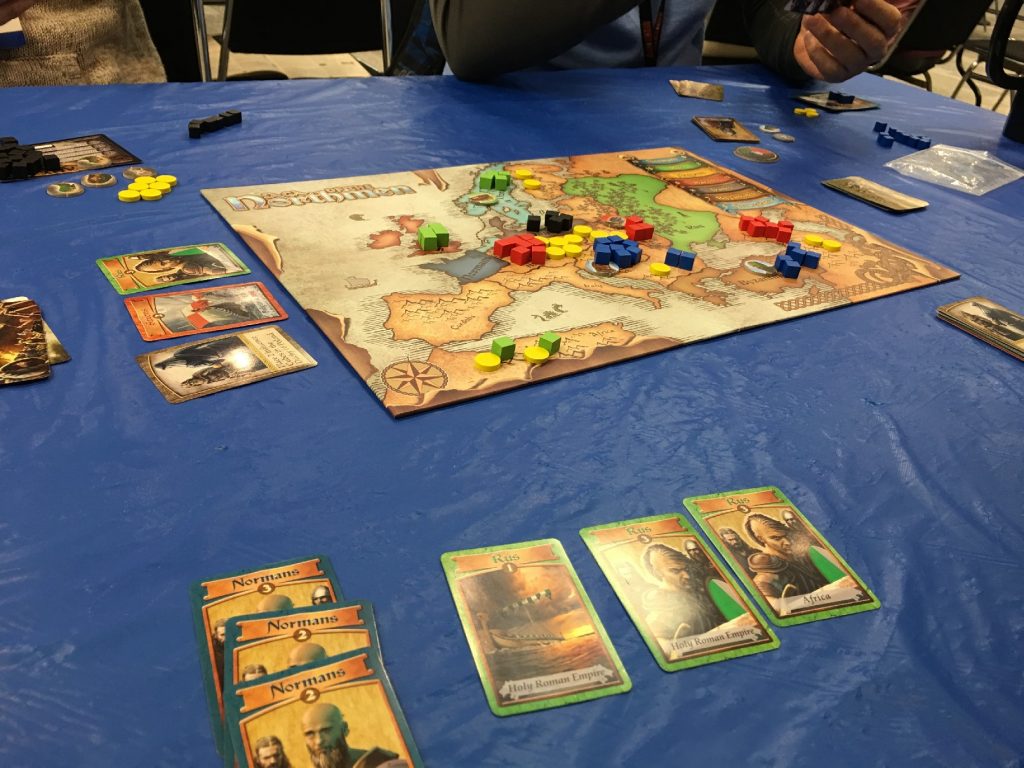 Saga of the Norsemen.  This is an area control point salad game.  I remember them playtesting this up at Game Universe a few years back.  This is not a bad game at all, but has some typos that caused MASS confusion when we first started (Chieftains are heroes or?? what).   Overall though I think this plays solid with enough people.  You try to influence the Viking countries (by having the most influence in each which is handled by card draws) and direct where they go viking so you can get the spoils.  I'm not sure who YOU are supposed to be in the game (an arms dealer? a viking god?).   Matt did not like this one all that much, but better than the next one.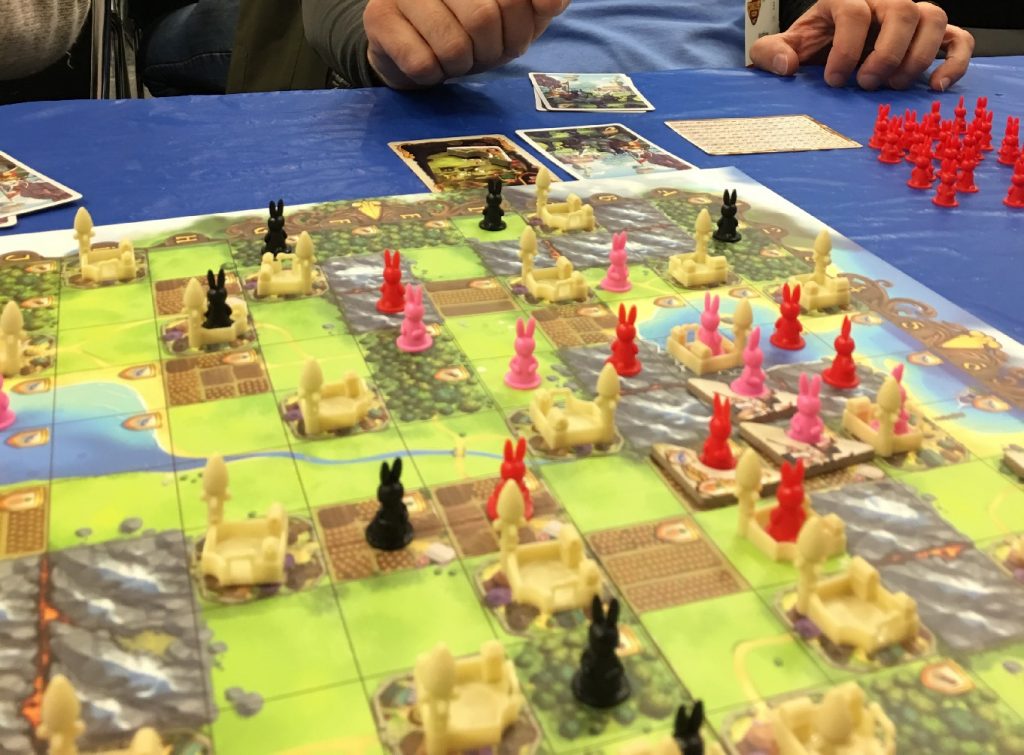 Bunny Kingdom.  This is a drafting area control point salad.  In fact it is probably the ultimate in this type of game. I liked it at first but as the game wore on there was a lot of maths and then more maths.  There are people that will love this game– trying to squeeze out point here and there and set up comboes, but near the end of the game it was obvious the winner had been determined during the third turn and there was no catching up.  Neither of the other players dug this much.  Very EASY to play though.  This made me simply want to play Feudality by Tom Wham.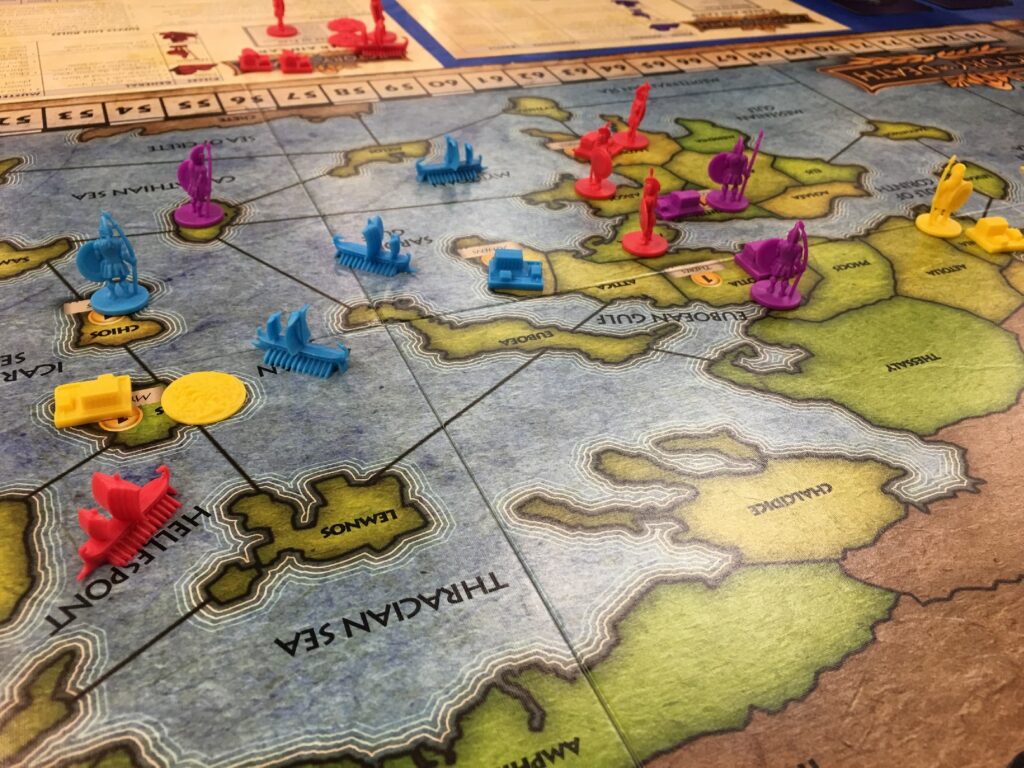 Next up was Victory Or Death (a Quartermaster General game).  I have a thing for the long, terrible war between Sparta and Athens which ended up completely pointless and could have destroyed Western civilization as we know it.  This game pits Corinth and Sparta vs the Delian League and Athens in the typical 'card deck is your economy and war powers' quartermaster game.  Needless to say, if you like 1914, you will dig this game.  I enjoy the theme a lot more despite the fact that I got my ass kicked as the Delian League/Athens vs Justin and Matt.  I do take consolation that the Spartans were terribly frustrated during the game with all of their attempts to do anything shut the fuck down, and it was Corinth that eventually took Athens.  The supply rules in this game are a bit difficult to grok, but the rest is very easy.  Excellent game.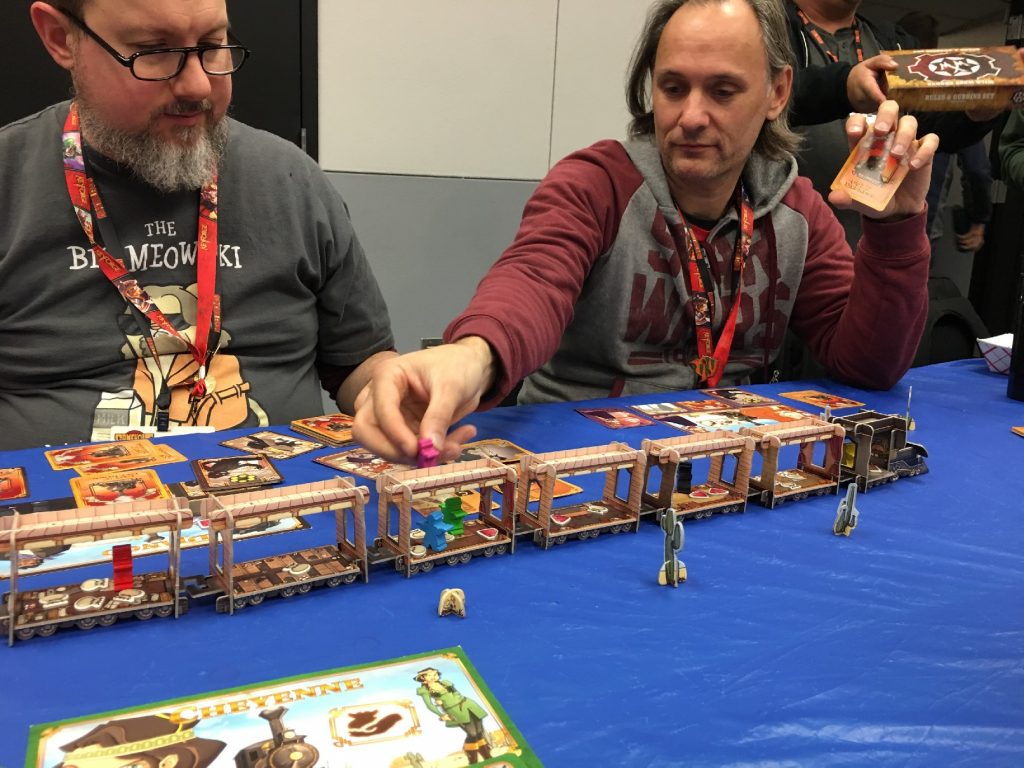 Colt Express.  This is a Robo Rally type of game where you play as bandits trying to rob a train and shoot each other.  Theme is excellent and the components are very interesting.  It's not a deep game, and I can't see repeatedly playing this, but it was fun.  There's a mcguffin that you pretty much need to get in order to win the game and that can be difficult to figure out at first.  I knocked the shit out of the holder of it multiple times, but couldn't pop it out of his possession.  I'd play this again with the kids.
Fairy Tile.  I had my daughter with on Saturday and so we busted out some lighter fair.  This is a game where you try to move three pieces on a board in order for you to play cards from your hand. You have 10 cards and you win if you are able to play them all.  It's a tricky little game that plays fairly fast.  I like the tri-hex board (I use that in my upcoming game as well) and the components, art and the miniatures are top drawer.  I can't see playing this with adults much, but with kids– great.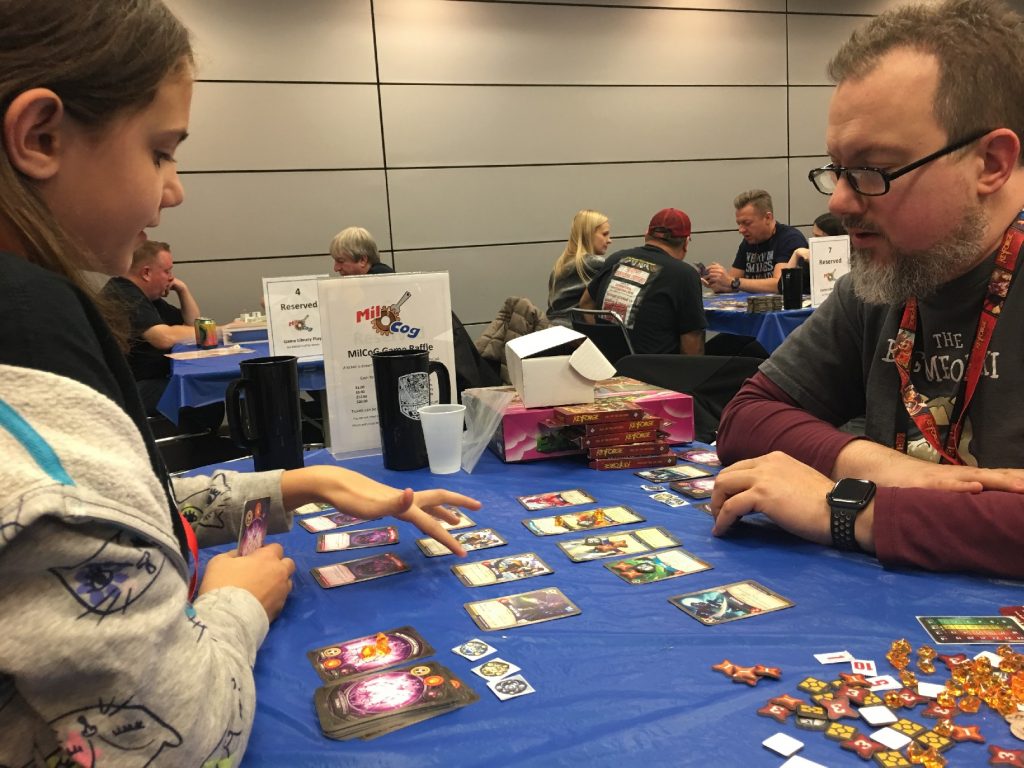 Keyforge-– this is our the game of the con.  They should have had a lot more decks/stuff available for people to buy instead of this pre-release BS!  This was at a game con for fucksakes four days away from the game's release– just sell the stuff.  Anyway, we got some decks after the demo and were pleasantly surprised at how good it is. While the TYPE of game that it is is nothing really crazy, the fact that you collect DECKS instead of cards is something really special and frankly, sort of insane.  My kid said: "out of five stars the game is a six."
I will be doing a post just about keyforge shortly after playing 10-20 times for the two readers of this blog that may think they want to buy it.