Finalment! I have beaten the Elden Ring, which took me months too long and many, many tries against Malenia, the Fire Giant and some other boss I can't remember any more.
It goes without saying that the game is a masterpiece. The attention to detail, the unbelievable scope, the number of bosses, the incredible amount of build options and weapon combos, the multiplayer (both partying up and PVP) and especially the rather interesting purgatorial storyline. It is a really good time to be alive and able to wield a mouse and keyboard or controller, I will say that much. Is it my favorite From Software game? No. I think even after all the fun Elden Ring is, Bloodborne is still my number 1, but I need to go back to it and play again and see if it stands up to ER.. and then finish Sekiro or Armored Core… did I mention it was a good time to be able to play video games? Will I play through ER again? Certainly, with stupid builds that can only make it with tons of help from other people.
One of the issues for me is that the game is… too long. I feel like the battle with Morgott should have been the natural end of the game, and the first DLC should have been up to the Fire Giant, Malekith, Malenia and the Elden Beast. These are generally good bosses, but for the base game? I had my fill of ER when I beat Morgott in May of 2022 for awhile and set it down except multiplayer with a second or third toon to jagg around with. It took me a long time to get back to the game and when I did, I think it wasn't with the same fervor as the first 2/3rds.
That said, the final battle with Malenia, the probably 100+ tries against her were really epic, attempting different tactical paths, failing, trying new ones, failing, going back and beating up bosses I missed to get certain items, then going back and failing and finally running into the fight with no spells and just the GUTS Sword (and a mimic tear…) and getting a bit lucky with dodging the Waterfowl during her second form and then blammo– the hardest From boss in the can!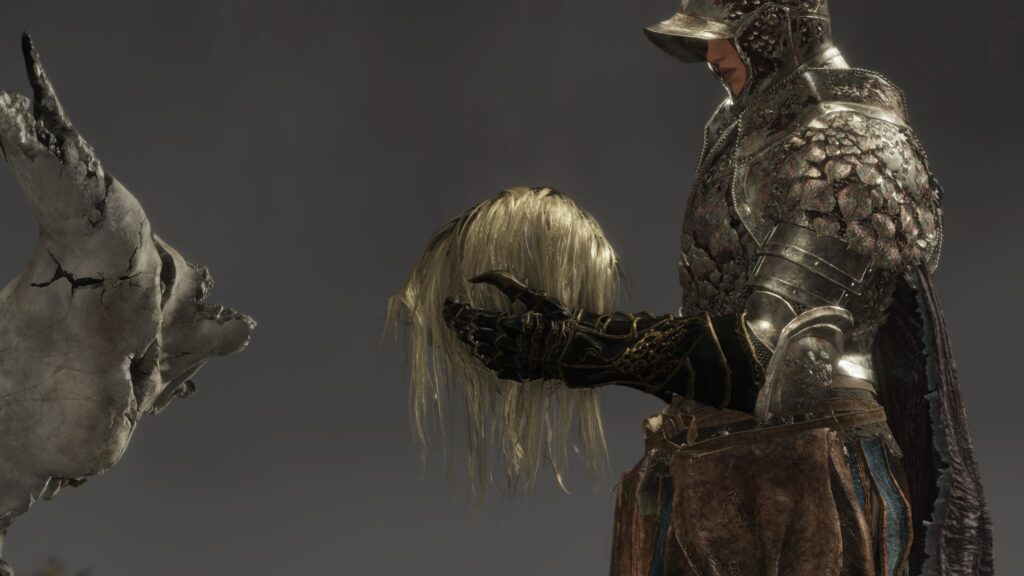 Unlike Bethesda games, From doesn't necessarily care if you miss a bunch of stuff, so they hide their big dungeons quite well in ER, and the first instance of this in Stormveil Castle was pretty eye opening for me– the majority of the castle and dungeon beneath was not only totally optional, but fairly difficult to find to boot. This theme continues throughout the game, which is both good and bad. Good because the sense of exploration and discovery is certainly there all the time, especially after stumbling across the giant hole left by Radahn getting his arse kicked. Bad because– you miss stuff. If I didn't have Nathan around mid-game for multiplayer, I would have missed tons of dungeons, just walked right past them. Later I was a bit more careful and was looking for particular items for my GUTS sword build. I think a bit more GO THIS WAY for some of the dungeons would have helped so I wasn't looking online for hints all the time.
Favorite Bosses list:
Radahn – worth buying the game for just this
Redwolf Radagon – yeah, easy fight but really fun boss.
Godrick – just a jerk that needed to be put down for good!
Godskin Duo – Made me think of some other skinny and fat guy…
Malenia – can't deny it, this was a good fight.
Well that's it on ER for now. This is a lifestyle game for many people and for good reason, it is absolutely excellent. I can't wait for the DLC and it's hard to imagine what they could even do that they haven't done before.