I decided to break my rule of 10 plays with Pax Transhumanity and do a review with only 7 plays. Most of them were 2-3 players, but one game was solo to remember how to syndicate and commercialize ideas before playing again! This may be a bit long, there's a lot to talk about here as this is a very intriguing game and one that is easier to play than Pax Ren, but much more difficult to strategize around to win because it is about solving problems and creating companies and not destroying Sultans or triggering the military phase of the Reformation. The first time we played, two of the players did not like the game, but we have played since and that feeling has changed, for some of us at least.
Form Factor
This is your typical Sierra Madre /Ion Games game that is a MASSIVE game in a teeny tiny box, with minimal components and lots of cards. Like Greenland, I can grab this off the shelf and go anywhere with it. Sierra Madre's efficiency of components is a wild post-Fantasy Flight concept and one everyone should copy. There is a folding board for the game, but you do not need it at all. This game made me look at a lot of the games I have that come in huge boxes, that don't need them at all (Condotierre, Hit Z Road, and a few others) based on the included components. I think there's a stigma of small box games in that they are always light and generally have limited gameplay and especially replay-ability. While there are entire sections in the game store for the 'light smallbox games, looking at Pax, Bios and Innovation/Glory to Rome, the 'we need a big ass box to be taken seriously' should be re-assessed: pronto.
The Theme
Pax Transhumanity assumes that mankind is going to have a technical renaissance that will improve our lot as well as some nuclear or biological warfare exchanges which we will survive rather than succumbing to a The Road style post-apocalyptic dark age. In the game you play as very strange societal benefactors/investors. One is a Doctor, one is a Citizen, one is a Colonel and one is… a Blogger? I'm not sure where these came from or what thematically they are supposed to represent. What they are good at though is 1) having a patent in a specific scientific discipline at the start of the game 2) being able to raise a SHITLOAD of money from investors 3) having a secret goal that may score them points at the end of the game.
Your goal? Create a bunch of companies (tycoon victory) or solve a bunch of very serious problems in the world (like pollution) that score points at the end of the game based on the 'regime' in play at the time. You are competing with other players to have the most of these rather than attaining a certain goal (like Pax Porf where you become the head of most of Mexico, either on your own or as part of the United States, or Pax Ren where you usher in a certain type of society in Europe and go down in history as it's architect and financier).
There are multiple ways to score, and multiple ways to win, but this is not a point salad, in fact it is distinctly an ANTI point salad game. Every single point is hard fought and precious and with the exception of your secret goal, open to easy assessment by the other players at any time. End game scoring takes about a minute or two, which is a breath of fresh air for everyone who got suckered into playing Coimbra or Everdell at some point and can never get that time back.
The cards in the game represent future tech and are the heart of the game, there are oodles of conjecture from all over the sci-fi map from Open Source Sexuality (oh yeah!) to a trapped AI 'God' to Reverse Cyborgs and rather mundane techs like Bio-printing, electronic textiles and a universal biometric database whos black heat is Secret Police of course. Some are game-change powerful and some are barely worth bothering with except as a research project to get another tech. With only 38 of these in any given game, you won't see all the cards for a long time.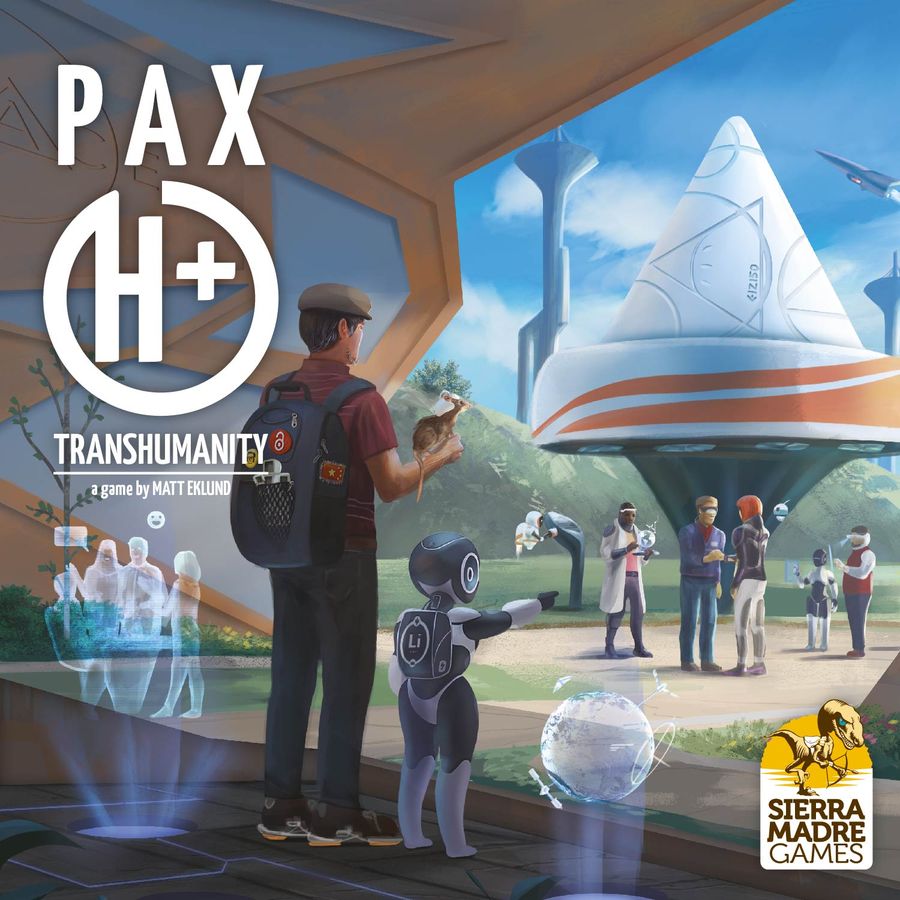 Art is OK, not stylish or taking any chances, it's very passable and safe (like Pax Viking, which was a bit of a shame). Graphic design is fantastic for usability.
The Play
There are four major interlocking parts to Pax Transhumanity. First is the Market which is a conveyor of cards that replace a card auction, random draws or drafting. Each of which may or may not effect play during the game depending on what the players do. These cards can be funded by syndication, researched to give patents or commercialized to score points or have other effects.
Second is the finance board, which totally removes the need for money chits or tokens from the game and was obviously the inspiration for the Riverfolk in Root. On this board each player has cubes that reside in Capital (best), Wealth (OK) and Debt (not good). They move down to generate needed money or move upwards when players fundraise. This is the only currency in the game, and it's brilliant.
Third are the 'Sphere' boards which are assigned to each of four markets. These spheres represent areas in the game where the market is active, much like the refugia from Bios Genesis. The spheres are First World, Third World, Cloud and Space. These also hold where the problems reside as well as sphere-specific companies and utilities. Spheres are the strangest and most important part of the game, so if you sit down to play this, make sure you know what these do.
Spheres allow players to generate the work needed to do research and to commercialize from either companies or public utilities by hiring workers. Workers are represented by player cubes (employees) that move down the Sphere boards when they do work. For example, if a player wants to research an idea in the Cloud, he must have an 'idea' worker in the cloud sphere. If he would like to commercialize that same idea, he must have a 'maker' worker in the cloud sphere. This was difficult to grok at first, especially since where the worker comes from (a company or utility) defines what can be done with the work in the case of research (patents or the think tank).
Fourth is the human progress splay which represents technological progress for all human kind, or at least, for the player's technology companies. The splay serves two purposes. First it makes ideas in the market viable for commercialization based on the color pairs in the splay. For example if there is a color pair of blue/green in the splay, blue/green idea cards are viable for commercialization from that point on. Second it is a repository for agents that are keeping down 'heat' around a technology advance or exposed heat that will come back to bite the players up the ass when there are nuclear exchanges (representing periods where society becomes unglued). For example, Dr. Fauci and his catamite Christian Andersen would be considered agents in this game, agents whose sole purpose is to keep the heat off of people working on gain of function research on coronaviruses which their controllers (i.e.: you in this game) funded and commercialized in the form of a coronavirus vaccine (which is an amazing technological advance if they can make one that works for more than a few months and doesn't cause 300+ standard deviations above the mean serious adverse reactions compared to the flu shot @_@). Funny how that is all modelled in this game!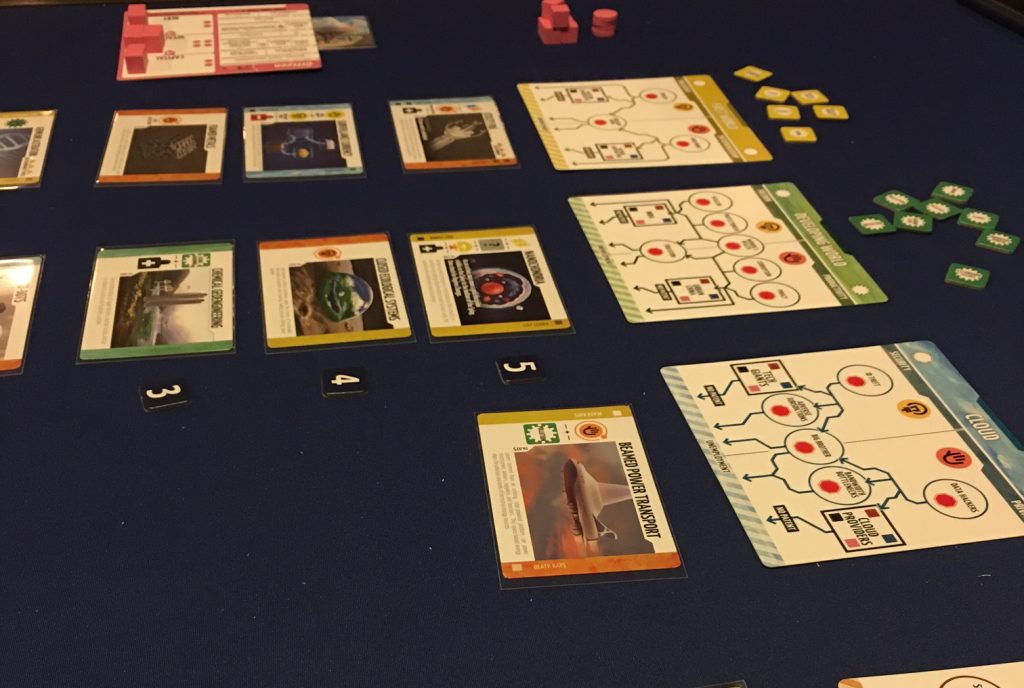 The idea market seems familiar to Pax players (and Bios too) but you never 'own' any of the cards in the game and there is no player-only tableau. Cards in the market can be Syndicated which means their special rules text applies to that player or in a player's think tank (also allowing special rule effects) or residing in the 'human progress splay' which again is a marker for the technological progress of human society as a whole.
Idea cards have a color pair (like blue/green) and various impacts that happen once they are commercialized. Most of these solve some problem and the player that commercializes the idea gains that problem chit as a potential victory point. Idea cards may also allow companies to be created, more agents to be added to player's finance boards or other positive or negative game effects.
The pathway to victory lies in choosing cards you want to commercialize and then work towards that by making them viable either via patents you have or your think tank (both created via research) or wait until it becomes viable for all via the human progress splay. You need work for all this, so hiring workers into companies, creating companies or using utilities effectively is a big part of the game.
The kicker is that the human progress splay controls what the current 'world regime' is, which determines what scores more points than other problems. If you want to cut out the mystery, go for the Tycoon victory and create companies. If you go the problem route, you need to make sure that the global regime is in line with your problems/companies when the game ends, or alternatively NOT in line with your opponents. Game ends when a "tipping point' card is commercialized (most of the time…).
Whew, that's a lot. Like Pax Ren, there are some difficult mechanisms to deal with in the game and timing them is critical. For example, when to research, when to commercialize or when to move cards from one market to another are clutch choices to stop other players from going after things you don't want them to. Most of this won't be evident the first time you play the game, so you have to get over the hump a bit with plays before the strategy is able to come out. Again, I equate this to the timing and orchestrating of revolts in Pax Ren– not an easy thing to handle since there are so many types with so many different effects.
Now to the review part (finally). There are some ticky-tacky parts of this game that may reduce your enjoyment of it, even after a few plays, but what will start to fascinate your and other players is the sheer madness that starts to occur when the market is laid out at first and then when the Cloud and Space markets are all filled with cards. The possibilities become maddening as there are just so many mechanics to play with. There is a shitload of idea cards and only 38 of them will show up potentially in any game. If Open Source Sexuality is a critical part of your strategy, there's no telling whether it will be in any game or not. Sometimes a bunch of very powerful idea cards all start in the game at the same time and cause chaos in the market and human progress splay, or set the game up for massive casualties later with tons of black heat that player's couldn't afford a Dr. Fauci to cover up early game.
This chaos mitigation is what I love most about the Pax series of games. You just never know what will happen either from other players actions or the market. Opportunities must be seized but at what cost and what will happen next. Transhumanity is less cut-throat than the other Pax games with little direct attacks (remember, there is no tableau in the game), however subtle moves or firing up a combo that lets you research critical cards out of the game or control the global regime via the splay are just as satisfying as the black and orange cards from Pax Porf.
Pax Trans has a very rough learning curve, and at times I thought it was more difficult to learn than Pax Ren, but if you stick with it, there is an amazing and nuanced game here that rewards multiple plays even in the same day. The game is not particularly long at all, and can be hammered out in about an hour and some change after your first game.
Player counts. I think at higher player counts, say 3-4, this is a bit of a rough ride due to turn angst. I would hazard to say that 3 is the max I would want to play with and this is quite a good 2-player game. 4 players– I've never played with that many but I might go insane waiting for my turn.
Heuristic issues are very few in this game, especially compared to something like Twilight Imperium, but there is one that bothered us and that's remembering the two actions per turn. You only get two, which is the same as Pax Pamir and Pax Ren, but for some reason it's hard to keep track if you have taken 1 or 2 actions in a turn. I think it's because a few of the actions are very complex, such as research and commercialize where you are making work, spending money and triggering effects on cards. I know during all of my games I either took an extra action or didn't take my second action and certainly so did my opponents.
Strategy and subtle combos abound in this game and reward multiple plays. They aren't as bullrushy as Pax Pamir with it's Free Action / Switch Suit /Free Action trickery, but combining favorable impacts with some of the powers that you've syndicated or think tanked is probably more satisfying. Winning the game is about either preventing the Tycoon company rush or doing it yourself most games. When that doesn't happen and it defaults to problem scoring, you need to make sure the global regime favors your secret problem suit or you have overwhelming 'open' problems solved in that suit. It can be very tricky as the game goes on and more and more technologies become viable, the Human Progress Splay can become crazy. Lastly, you can destroy other players by posting your agents on black heat in the splay, so watch for those opportunities and especially card powers that let you retroactively add agents to heat late game. When the nukes go off, your companies will still be there and others will not, this is way more important than it seems in early plays.
Bottom line, this is an amazing design that has a ridiculously steep learning curve. It's a cheap game (45$) and has a very small box so there's little reason for you not to give this a shot, or coerce someone in your game group to buy it and try it out. Despite the difficult rules, this is very much worth giving a few tries.
Here are some resources:
Phasing Player's learning video
How to win video – this is important