This con went FAST, which usually means we were having fun or we were drunk or a mix of both.
We got in our Shadowfist draft after many years, which I will detail in another post on it's own, Matt and I played in the Keyforge sealed tournament, we played a lot of ROOT, some Runequest and Mutant Crawl Classics.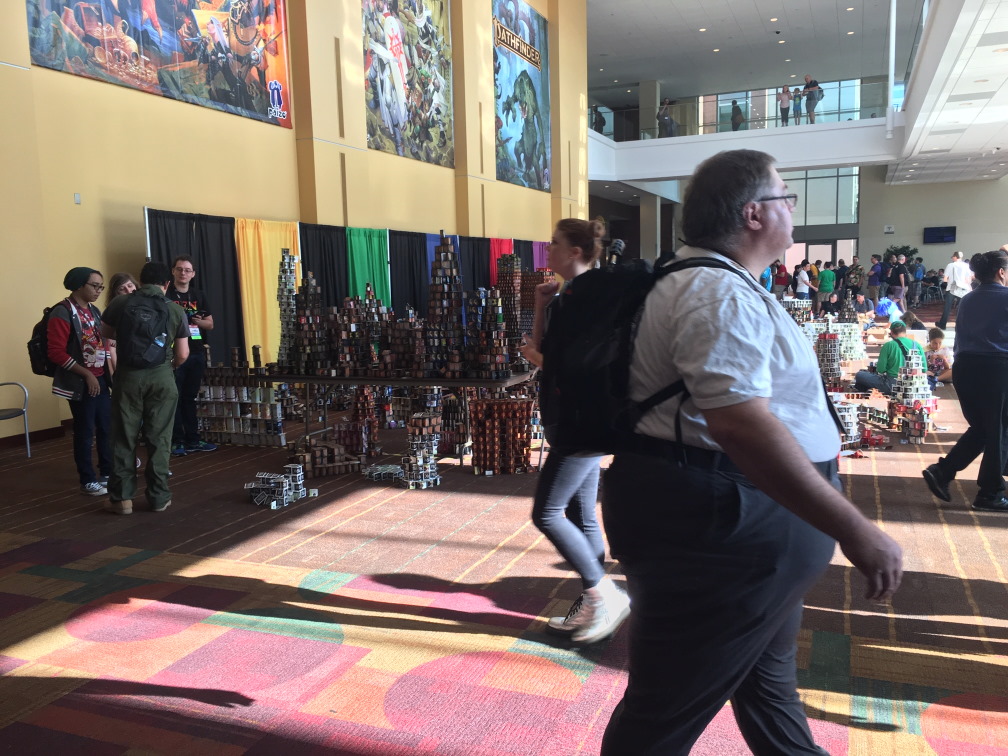 Keyforge
This was damn fun and the people were great. It's hard to be a complete pysse-ant when your decks are randomized and no one knows what they are going to get. My deck was absolute shit, and since I'm a n00b player, I didn't do well. Really, I can blame the deck on this one for sure which is how the cookie crumbles. Fun game, cool expansion and really cheap buy in with the core set and two random decks. And they had a fuckn vending machine for decks.
One thing to remember is that you can MULLIGAN if you don't like your first draw.
Mutant Crawl Classics
MCC/DCC: you can be nearly certain that you're going to get a good GM, a good CON adventure and a romping good time when you sign up for one of these games, and we did. The scenario took place on the Metamorphosis Alpha mothership and involved our (funnel) characters being ejected from our home area to the "death zone." A bunch of us got robot parts (my pure strain human got a robot head!), we defeated some mutant cyborg hippo and then had all but two of the 18 characters wiped out by someone failing to learn to use a grenade properly while we stood on a ledge with no railing (I had gone off to piss when this happened, so I can't be blamed!!). Only my manimal Squirrel with her bubble helmet survived. Looking forward to more of this one once Matt fires it the fuck up!
Runequest
This is the Chaosium RQ and not RQ6, so heavy Glorantha throughout. It was the second time I've played and it was OK, the combat system is not on the same level for easy of play and intensity as Mythras (RQ6) at all, but Glorantha can be interesting. I've had RQ GM's that have shown up with just a piece of scratch paper, some pregens and dice and it was fantastic, but this wasn't one of those, it was just OK and for four hours of your con, that's tough.
ROOT
We played two games, one 4 player and one massive 7-player game at the Hyatt. Both Patrick Leder and his ops manager came by to say hi during the (5 hour?) game which was awesome. The 7-player game is absolutely insane and some factions just don't stand much of a chance (i.e.: the area control ones). While the vagabond didn't win, it was the Lizards at 29, Vagabond (Ranger) at 26 and the Otters at 30 in the end FTW, which should tell you a bit about how the game went. The Cats and the Birds had to simultaneously chase the vagabonds around, destroy sympathy as well as trading posts while at the same time trying to score a few points here at there. While certainly a bit unbalanced for the area control factions, 10/10, would play 7 player yet again.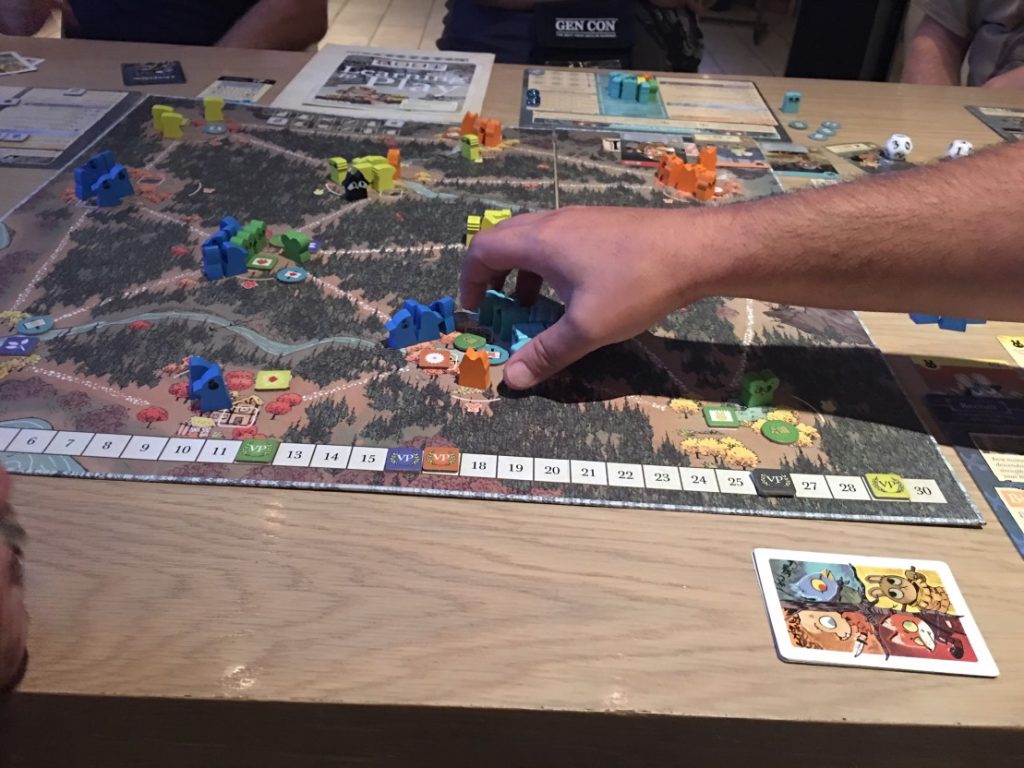 Other stuff I saw
Other than gaming, I did a share of wandering around the dealer hall and the various areas.
DUNE is really coming out, and soon! GF9 really got on the horse and produced the game quickly–I figured based on the past that they would take long into 2020 to get the game out but, nope, it's out next month. The new set looks good and I am very interested in the rules changes. I do think the leader pieces are too small, but the art is good and the map and box both look beautiful. We will be able to play this again rather than our 1980 copies sitting in the safest shelf possible in our houses only to be brought out every few years!
Having the board game 'check out' be a ticketed event SUCKS, it's much better at Gary and Gamehole con where you just walk up, give your drivers license and play whatever.
Pathfinder 2nd edition was a big release during the con and again, like 2008 or so, they had MASSIVE stacks of books. It's got to be tough when you build a direct clone of an older game and then do a second edition of that clone.
Harassment signs. I've been going to GENCON every year since 1993 or so and I think it is the most accepting convention for ALL types of people, freaks, deviants, nerds, etc. one can imagine. It just goes without saying that it's completely unacceptable for people to be mean to the weird or normal alike, so I'm not sure why these signs are necessary to put up on every single door in the entire convention center. Do they really mean ONLINE harassment?
The Gencon App was really helpful– and saved a lot of paper with those big con books with their (outdated) event lists. Get it for sure if you go.
BIRDS and LIMES. This was a fantastic addition to the Con. We had one incident where Matt parked the car and JP forgot his badge, and instead of having to walk 45 minutes to the car and back, we tossed a few bucks at the BIRDS and it was really and excuse to ride a motor scooter for 15 minutes total! In Milwaukee, everyone had to have helmets and ride on the road and stuff, which is fine. However, in Indy you can ride all over the place, no helmets no nothing. I would only say people SHOULD have to ride with a helmet, but then be able to go all over, on sidewalks, whatever. Sure there will be drunken accidents and all that, but no different than people riding a bike around.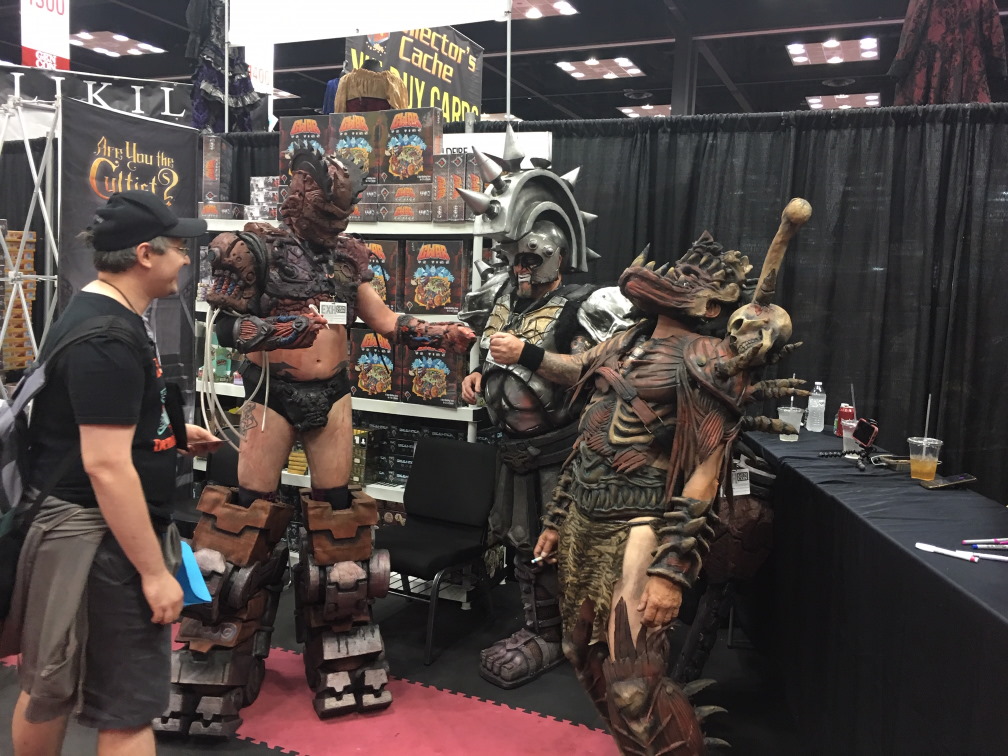 Gencon Auction! I hadn't been in this thing for years and it was great. I may spend most of a day in there one of these cons. So much shit for cheap and the consignment store had some ridiculous deals.
Triumphant Entrance Man. We saw him again at an MTG booth looking and triumphant as ever (and lost some weight as well) and took some pics.