Garycon was this past weekend and I was able to go Friday and Saturday to game the fuck out of it. Always a great time, it's one of those cons that I very much hope does not get any bigger because the venue, the attention you get from the staff, and the small but cool set of events are not something that should be forced to change due to overgrowth. While I really dig Game Hole Con, that thing is going to get bigger and bigger until it's rival to Gencon itself. Garycon, hopefully, not so much.
Most years we get in some RPG games (mostly DCC) at garycon, but this time it was all board games. Matt went Thursday and mentioned that the game library was very small (they didn't use Milcog which is at Gencon and Gamehole con) so we had to schlep a ton of our games to around the place. Luckily, unless we have an event, we go to the same spot every year, park our sweaty asses there and don't move for the whole fucking weekend.
FRIDAY. I'm going to call Friday exactly what it was: eurotrashday. Now I like a good euro, and I generally like to try new games, but this was a bit too much worker placement for a single day.
We started out with the excellent but messy (and poorly graphic designed) Terraforming Mars. This took a long time, but the experience of playing was quite fun, and we were fresh and not drunk. While not super easy to learn, it was easy to relate the systems and mechanics to what was going on on the board quite a bit more than the next few games. I'd play again.
Between the Euros we did get a game of ROOT in. I pretty much told everyone that I would be satisfied to play ROOT all goddamn weekend, and that I needed to play it at LEAST once per day so people were aware. Root is not a euro (it's only called that by eurofreaks who couldn't possibly lower themselves to play an ameritrasher) so there was a bit of a reprieve. The game that day was a Vagabond, Lizard Cult, Cats and Birds game. It was surprising win for the Lizard Cult, even more surprising when after the game we realized that Matt had not been discarding his cards whenever he scored garden clearings. It's a wee bit more difficult to score with the Lizards than that! People are starting to get better with them though and that's excellent because they are nasty.
The next euro we got the wooden cubes out for was Gugong : a game where you play a faction trying to get the most influence in the Forbidden City for reasons I'm not totally sure of. This is a worker-placement-point-salad-solo game with very little interaction between players but a neat looking board and peices. Gugong was really difficult for me to learn after playing Terraforming Mars (and playing Root), but was basically placing stuff on the board to generate points, either inexpensive and late, or expensive and early and hope that whatever you were doing generated more points by the end of the game that the other players doing the same thing. This game seems to have about 30% more crap on the board to do than needed with an area where you could float your cubes around on boats and ride a little horse around as well as trying to complete a wall, moving up a track through a little village… it was incomprehensible thematically to me and just seemed like a mess of linked mechanics. Gugong wasn't terrible, but just has nothing to recommend it over tighter euros.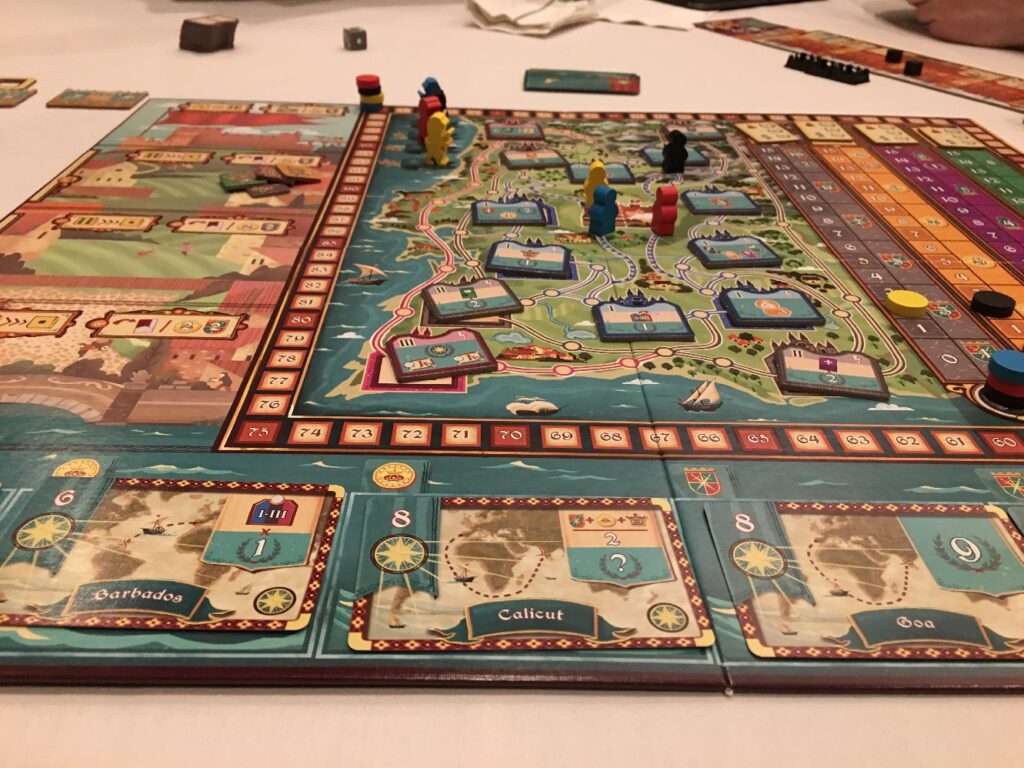 The last game of the day was one I really did not like, but it had some great art and graphic design: Coimbra. I'm not sure what to say about this one except I wished, based on the theme, that I was playing Princes of the Renaissance instead. I did not know what was going on in this one, and just chose the tiles with pretty girls on them most of the time. One incredibly annoying thing was the variable turn order. I wanted to switch seats with people but of course you have this big tableau of tiles in front of you. I'd likely play the others again if pressed (especially terraforming mars), except for this one.
SATURDAY! This is the day we played the good shit, but it was loooong. We got to the con pretty late in the morning and immediately started a massive game of Eclipse with likely too many expansions and new races and shit. It's a great game, but they pumped out the expansions there for awhile and unless you play A LOT of the base game, I just don't see the need.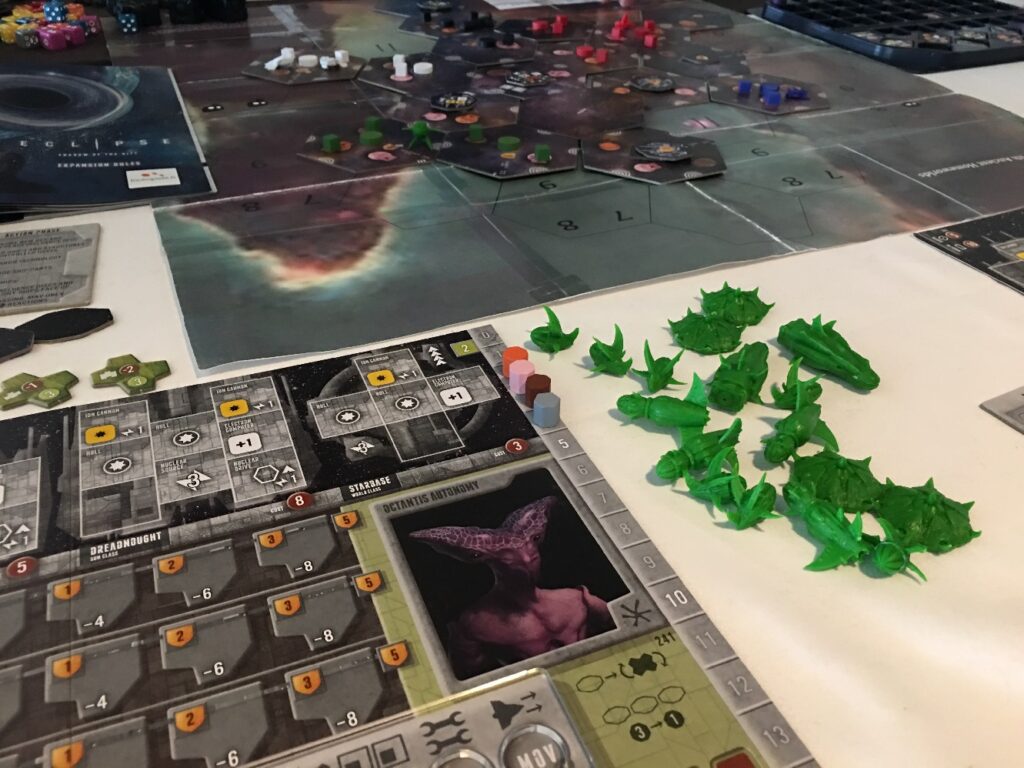 This was a slog, and a very low-tech game so battles took a long time. I hope the second edition consolidates some of these expansions and just keeps the good shit. While I appreciate a game where a bad hex pull can ruin you for a couple turns, with the 'moving ancients' your whole game can be fucked for good. With a game this long, that's not good.
Next up was the amazing game of the CON: DUNE. I brought my old set that I'd had since high school, that has no more player aid sheets and has pubes in the box that are older than my kids (hey, we played on the floor some times…). We had a full 6 players and lest you forgot how good this game is, or never knew, let me remind you. You see where the storm goes, you see where the spice lands, you bid on cards (the only tedious part of the game) and then each player lands stuff on the planet and moves one army. That's the whole game! Yet in those simple phases is one of the greatest war games that also fundamentally nails the feel of the conflict from the book perfectly.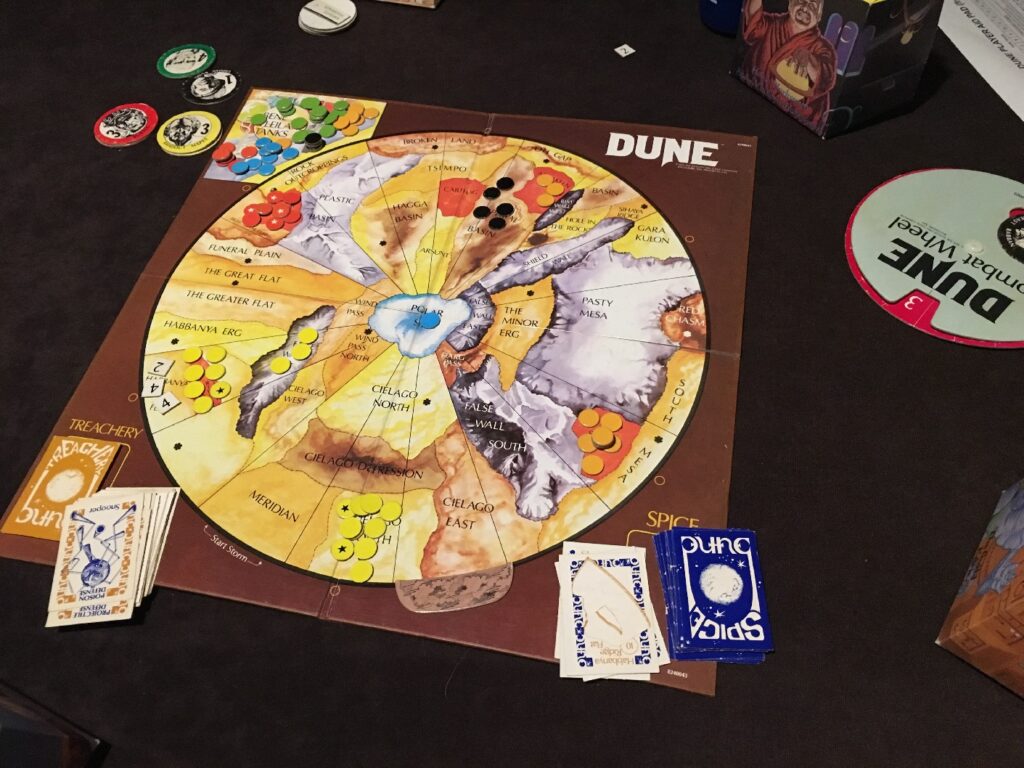 I drew the Bene Gesserit and immediately wanted to get retribution on the game of Dune and all players after a loss years ago to them in a game when I destroyed everyone as the Harkonnen's on turn 2 AS PREDICTED and lost.
For the prediction, looking at the board and players: newer Harkonnen player, totally new Emperor and Guild player, strong Atreides player and experienced Fremen player. I chose the Fremen on turn 4, which is a bit of risk since the game can be over (with a worm appearance) on turn 2/3 after alliances are made. The Harkonnen and Atreides were hammered off the board by the Fremen, Guild and Emperor in the first couple turns and based on the board positioning, I got lucky and a worm wasn't drawn until turn 4. The Fremen made an alliance with the Guild, both of whom had strong board presence and it was all over but the yelling and crying as the Bene Geserit again snatched victory from the jaws of defeat (I think I had 2 pieces on the board at the end).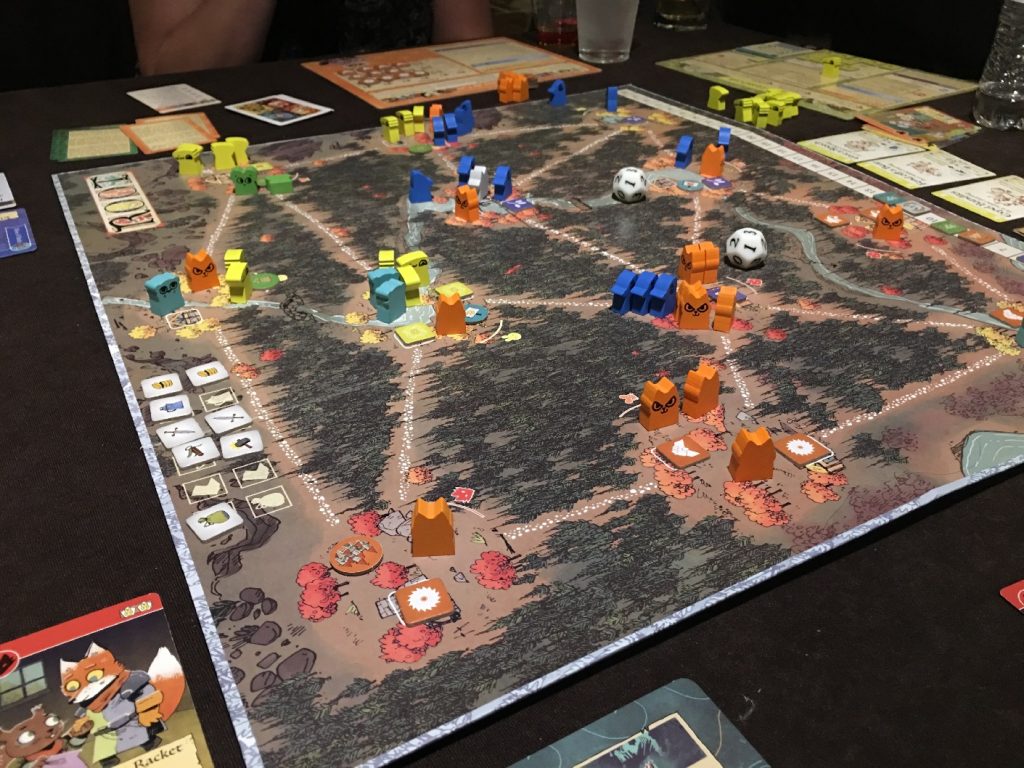 The last game of the day was another game of ROOT, this time with 6 players! This was an awesome game and took place during the Goodman Game's free beer and chocolate bar party in the same area, so people kept coming round to see how things were progressing. We were intensely into the game and even with that, it went until 12:30 or so AM where I was able to squeeze out a win with the Riverfolk with the Vag and Lizard Cult nipping at my heels! I was able to put away the win because of a single, unprotected garden that had been ignored in a mouse clearing far away from the action (remember Lizards control any clearing where they have a garden no matter what) allowing me to place a trading post and hit 30 points. Great game, lots of shit talk and yelling of the word fuck.
There's also a ton of radical pictures I took of the miniatures area I'll throw into another post.