This is a unique little Con as it harks back to the era where Wisconsin was ground zero for all D&D stuff, with THE DUNGEON shop (basically the D&D store with the TSR office upstairs), the qtip factory, etc. all around Lake Geneva, where some of these TSR guys still live and still show up to Cons!
So if you do not know, Garycon is a small con at a very cool location, the Grand Geneva Hotel, at it's worst point in the turn of seasons (end of March) when the snow is gone and the warm weather (even for hiking) isn't around yet.  40's and rain is what we got again this year, unlike Game Hole Con which was absolutely gorgeous out all weekend in November!  I think that Game Hole and Garycon bookend each other quite nicely at their times of the year though, where, typically, you ain't going outside for summer or winter sports at all up here.
This is an OSR con, which means Dungeon Crawl Classics, Swords and Wizardry, Lamentations of the Flame Princess, Into the Odd, Trampier art, Castles and Crusades and a lot of old dudes.  One of the guys I was with mentioned that the demographic was, for the most part, 20 year-olds and younger, and late 30's and older with the entire millennial generation not even there.
That said, while all about OSR, DCC dominates this con as far as I can tell. They have a huge booth in the small exhibitor hall and while there were tons of people playing 5E, there were also many DCC tables everywhere.  I think one of the reasons DCC does so well here is that a lot of the old Wisconsin/Northern Illinois TSR designers are involved with Goodman games (and now even WOTC with their partnership announcement this weekend on the old school modules).  Goodman does judges guild reprints AND their own Californicated OD&D DCC stuff, they do a rebirth of Metamorphosis Alpha AND their own Mutant Crawl Classics.  So they are pushing ahead with their own games while at the same time not only bringing back some of the oldies, but adding new content from the original authors.  This makes the OS (without the R part because they likely never stopped themselves) happy.
We got to play DCC twice with Daniel Bishop as the Judge. For our first game our gang of freaks was nearly half the players there, which was totally awesome.  I had run a funnel and read modules, but never played the 'leveled' version of the game before and I am quite impressed with the rules in play.   I played a warrior, Sensless played a magic user with all BUFF spells and Maat played the only thief,  bowers another Wizard.  The game is dominated by the magic users for the most part (which is very anti-vancian/gygax), but they destroy themselves to pull off what they do and still have to rely on the dice–nothing is every certain no matter what you spellburn.  What it comes down to is trying to maximize chances of a certain spell result using spellburn, corruption, the halfling luck power and personal luck. How it works out in play is basically full on gonzo, where the GM can lay heavy stuff on the players and they can come back from the brink with clever luck/burn/corruption usage — but it's very costly.  In a CON game Wizards are not going to hold back on the burning for results, so shit will get crazy.
Fighters are awesome however.  They take a beating as expected, but instead of flat bonuses, they get a DEED die with which they can declare a heroic deed, like pushing someone to the ground or dry gultching them if the die comes up 3+.  This allows a lot of creative play for what is normally, even in 13th Age, a bit of a boring class outside of Runequest/Mythras.
My second game I coached my kid through and it was great with a very strange premise in a deathtrap dungeon, which he had never experienced before.  I talked to him after about how the horrifyingly deadly traps were telegraphed by the description of the area, and the non-telegraphed ones were fairly easy to get out of.  Unlike the funnel games, leveled characters in DCC are difficult to kill off as long as the rest of the party is around– but his party had nearly all the spellcasters drop to zero at least once and I would have loved to see some of their character sheets to see how bad their stats were with all the spellburn and voluntary corruption!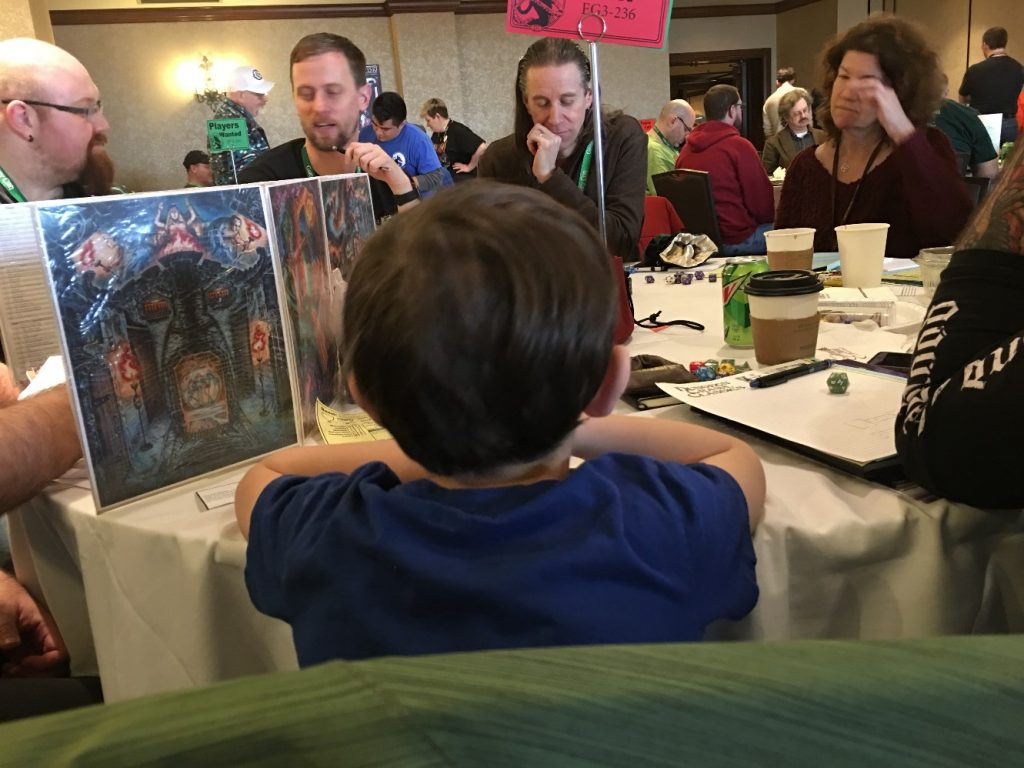 Other stuff I saw and did:
Played A Study in Emerald three times and it was great each time, even though we got a few of the rules wrong. I also busted out Moongha Invaders, another Wallace classic.
Col. Zocchi was there with his dice and stories.  Picked up a D100 and a full 12 die set.  I need them for the funky DCC dice, but these will quickly replace all my other dice, which I will probably donate to the school library or work.
We played Alpha Blue with Venger Satanis.  One thing out of playing this I noticed is that when PC's are presented with the desire for sex from female/male/alien NPC's, they are ALWAYS paranoid about it being some sort of duplicity. This happened in Alpha Blue and in Scenic Dunnsmouth a couple weeks back.  Even when everything checks out the players are still totally thinking it's a trap for sure… why are we conditioned this way??  Think about it, you come out of a dungeon with a ton of gold and hit the local inn, the brothel wenches will want you to buy them drinks and other stuff to maybe get them the hell out of there on a gold sedan chair, BUT likely want to actually fuck adventurers and of COURSE any male NPC in the same situation will want to put it to even the brawniest of females when she has gold jangling in all her pockets!
Marvel Heroic – there was a table next to us today that was playing, cool to see.  That's a fun superhero game.
Tom Wham – we bugged him about getting some of his games print on demand or kickstarted! I missed the Search for the Emperor's treasure game though sadly.
Grand Geneva knows how to make a fucking good Brandy old fashion!
There's a small space between the city sprawl from Milwaukee and Lake Geneva that used to be a BIG space.  Driving through these areas that will soon be mc-mansion farms as far as the eye can see was sad.
I grew up near Saylesville, which isn't even a village or township any more, being wholly swallowed by Waukesha, with only the name of the millpond to show it was ever there at this point.  To the south of us was a big farm owned by a Gygax, which we heard was a cousin of Gary Gygax.  Everyone in our area pronounced it GEE- GAX and not Gu-I-Gax.  One of the Gygax grandchildren walked around and talked to con-goers and I asked how his name was pronounced and he said the Gu-I-Gax version, so there you have it. My mom will never be convinced to say it that way though.
CON food.  I had terrible issues with something I ate or drank, same as a couple years back at Game Hole con.  I don't have a sensitive stomach normally at all, but fucksake, there was something going on there.
Man– Wisconsin– you have to get some exercise!