Last weekend I finished running a funnel with the DCC scratch off character sheets. This will be a bit of a review of the sheets and a bit of a review of the new, brutal, way you can handle characters in the funnel if you have these sheets.
First, the sheets are aesthetically pleasing, but they are not made with the best scratch off stuff. I don't play the lottery or any of that parasitic shit, but I've scratched off some stuff in my time and it was better than the sheets– the stuff was challenging to get off without scratching the crap out of the paper underneath.
Secondly, the size of the type in the scratch off areas made it difficult to read the text, especially for the lucky signs and some of the equipment.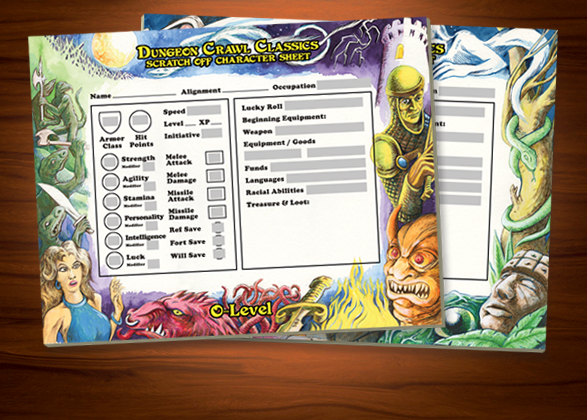 Last, I think these should have been a quad of four character sheets and not just one. There is a lot of space on the sheet wasted and frankly 0-level characters aren't worth a full sheet of paper in the first place!
We followed the suggestion that came with the pack of 'emergent' stats, that is: when you have to use a stat on a character, you scratch it off the sheet and reveal it. Only when you use a stat do you get to see what it is and what the bonuses are.
While this was fun, a couple of the players felt like they were bit upside the ass by it when their front character turned out to have a 16+ in some stat and they didn't know and doomed the poor fellow to some trap.  Make sure if you do this that you have ample opportunity for tests (PER especially doesn't come up often).
That said, my funnel turned out not to be a very dangerous one, and with careful play (in most instances), the players came out with multiple characters.
Overall, it was fun to use the scratch off sheets, but they could be better and there were some complaints about reading the entries at times.