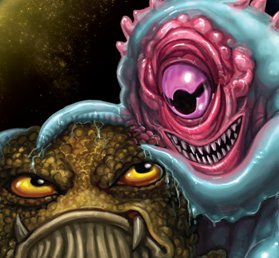 There is only one best board game in existence and it's Cosmic Encounter.   What's more, the Fantasy Flight version is absolutely superb and everyone should have it and play it.  That said, we can't always get together to game in person, quite rarely actually, and while I played the current online version, it was really JUST the mechanics and is missing the biggest part– human interaction.
So I'm really quite excited about the direction the Cosmic Encounter iPad version is going.  First, they've stated that they won't have a game engine powering the game– the pieces will be there but the PLAYERS figure out what to do with it.  That will free us up to handle all the crazy stuff, and they won't have to program what amounts to an insane amount of edge cases that Cosmic Encounter would require.  In fact, Cosmic is a game of almost ALL edge cases!   Secondly the focus on Voice.  It's going to be key for Cosmic to be fun in it's (near to) true form that players can wheel and deal, and a little text box just isn't going to cut it.
Anyway, I've gotten fucking hammered with Kickstarters lately (Feng Shui and the 13th Age Glorantha Kickstarters) and a few of the video game ones I've backed have been failures (Planetary Annihilation is a great example) so I was a little hesitant– but this is the king of all board games and could be a great experiment in both implementation of a social game and the evolution of Cosmic.