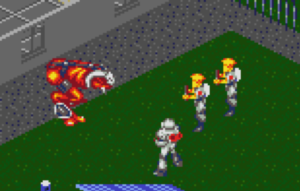 Woah. The new version of Xcom is coming REAL fast.  When it was announced, I thought we had a year or so before it was spewed out across all us gamers.  I was shocked to see the demo out last week and (nearly) immediately gave it a go.    I can't make any type of post about a resurgence game like this without waxing on and on about how I feel about the old versions. Needless to say, emotions run strong with this series.  People loved it when it came out for a lot of reasons: the art, the sound, the affiliation with your kill team (that's really all your guys were) as they got stronger and sometimes get the dirt nap and you cried softly in your dorm room.  While I liked Xcom, I think it was brilliant but I never wanted to go back to it once I played through a couple times, and never played the Terror from the Deep version.  The version I did get into and will still bust out form time to time is Xcom Apocalypse.  This was largely panned when it came out and definitely has it's quirks, but the core gameplay– i.e.: the combat, has the ability to go real time and THIS is where Xcom Apocalypse shines.  You remember those hour long bug hunts trying to find that one last critter in turn based mode in the original Xcome?  In Apocalypse, you can send off a couple guys and find that bug without clicking through your whole team.  Whats more, Apocalypse's environments, still all sprites mind you, were the most 3D I've ever seen in a game AND almost fully destructible.  While Jagged Alliance 2 is a superior game, Apocalypse's environments  vastly surpassed JA's always on the first floor style of play.
With all that history with the game, I was looking at the demo through the Apocalypse glasses and it didn't disappoint.  While the first mission is 100% scripted, the second allows you to try out all the options for your kill team during turns.   One of the differences in the new Xcom from the old games (and Jagged Alliance) is that you don't have action points that get spent by small pieces of actions: your squaddies are allowed to take two actions during their turn, either Move or Fire essentially (there is Overwatch and 'Hull down' mode" that you can choose).  This means if you are creeping up on an area of the map as players are wont to do, you have to take an entire move action to just move up a tiny bit.  At first I wasn't too sure about this as precision movement is key in these games due to the need to be in cover all the time.  However, going back to Apocalypse, as much as I love the combat portion of the game, the original Xcom had some really long bug hunt missions.  These are missions where a single worm or alien is hiding in a closet somewhere on a 4-5 story space ship and you have to walk your team through the entire map to find it and kill it.  Since it's much more important not to get your guys killed, this type of hunt is always slow as fuck so you don't get bushwhacked.   The two turn action limit will make things go quicker.
As for aesthetics, the game looks eggcellente good, and should because it's using the Unreal Engine.  The way Firaxis has handled the visuals of the Xcom base is amazing and the squaddies look superb (again, this is a turn based strategy game so aesthetics are secondary to everything else).  You get a choice in the game whether to help out the USA or China and I chose China in order to see if they had some localized environments and YES, there were a bunch of signs and stuff in Chinese, so you could definitely tell on the ground where you were at.  If you think about it, that's a LOT of content for the developers to make.  A little touch that the original Xcom didn't have at all.
The aliens that I saw looked good and definitely had some soul.  This is a FAR cry from the very stupid looking aliens from Xcom Apocalypse (a flying skellington and a blue ice beast or a running butt).
The interface– well this is going to be a console game as well as PC and we can see some problems arising for the PC player due to that choice.  While the base is amazing graphically, I was wondering how the fuck you were supposed to move from room to room and how to get to where there is an alert?  Hello? Can't I just click the room I want with my mouse?    I don't even know what I pressed to get to the 'alert' room: either enter or space or something.  This was annoying.
During missions, the firing interface, while pretty cool looking, is completely geared towards a console experience.  Your Squaddie goes into firing mode by pressing the space bar, then you scroll vertically through some options (using the mouse for this sucks) and then how do you select the option and execute?  You press the ENTER key?  What the hell is that shit?!  I'd like to just use my mouse please and SELECT the option I want.   Hotkey will make this moot however, so this is just a minor annoyance all round and will probably be just something to get used to.
Overall: Yes.  While the consolitis infecting the interface is annoying, and the tactical combat is different from what I expected in terms of squaddie control, this game has VAST potential for goodness.  We haven't seen an A-class turn based strategy game for a very, very long time so I will be buying this as soon as it hits the streets. It's alien depths must be plunged deeply.  Plus I was able to make the most bad-ass blaxploitation-style character I have ever been able to do in a video game.   The white and asian toons look good, but the black ones look simply amazing.