Almost a year ago, I posted a tweet in response to a question from a game designer I follow who asked about why a good percentage of doctors didn't get vaccinated. Fair question and I answered in conjecture: 1) because they've already had covid and 2) since the emergency status of the vaccine removes all liability from the administrator/manufacturer, there's no legal recourse if you are injured, which my friend found out about when he got severe bursitis in his shoulder after the technician fucked up his shot. My account was locked within an hour and to unlock it I had to give my cell phone number to get it back, for reasons you can imagine. I just ignored the platform and moved on.
About a month ago, I could not find where I bought a TITAN t-shirt from and remembered I followed an account that sold them on Twitter, tried to log in, still couldn't: even to see a list of who I followed! Since it took a couple clicks, I put in an appeal and got a response to remove the offensive tweet. What is it? Give phone number? Remove the tweet? I just ignored it until I got this today: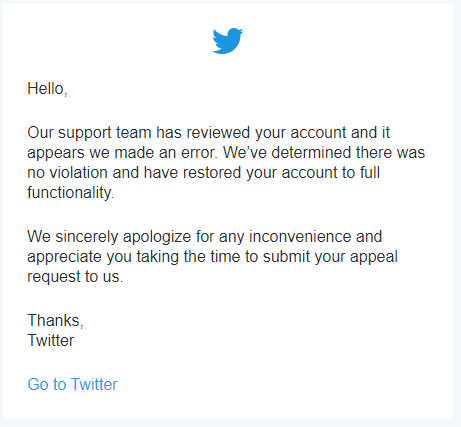 It's possible this is just standard procedure for naughty "people" like me that talk about the vaccines in any way but rah rah yay and get caught by an algorithm: ban them until they give a phone number/appeal. Or it could be that they are changing because Musk may buy the company (it's not final and may not even go through). Both scenarios are possible, but I would like to think that it's this lawsuit from an ex NYT reporter that was banned from the platform for stating what is now completely obvious— the mRNA vaccines have a very short lifespan of efficacy compared to what we have come to expect from say, the measles, mumps, etc. and should be considered a therapeutic. I think this lawsuit is going to pop open exactly what the algorithms are doing and what the staff have been up to this whole time but most importantly, who is funding it.
From the very beginning, Twitter struggled with finding a solid revenue stream. I remember when the founders basically said 'we have all these people, but haven't found a way to make revenue yet." Fair enough, but what that does is open one up for taking money in bad faith from very bad people just to keep the lights on and stockholders (Blackrock and Vanguard mostly) happy. When the financial opportunities to get big checks from Pfizer (like the rest of the media did) came to Twitter, I think they took it hook line and sinker and were obliged to modify their algorithms to fit what that funding source wanted most: no negative talk about the vax no matter what it did to the integrity of the platform or the reputation of it's degenerate staff. This isn't a right or left wing thing, this is a corporate shell game where a company pays to have platforms help them pass the dirty information down the road, they can rape mass profits NOW and worry about the heat later. Seeing as it's come out now via Pfizer's forced data dump that massive amounts of the vaccine trial data collection methods and participants were not just botched, but actively fraudulent.
When those two vaccine approval guys quit the FDA in disgust, that was the alarm bell that shit was totally fucked and it should have been all over the place, but did you see it? How is that possible if you didn't?
I loath to post stuff like this, but it illustrates one thing about the advantage of the blogisphere compared to any corporatized social media (including Substack): bloggers can post anything we want about any topic we want.