I just finished Rage 2 this weekend and overall, I think the game is solid. I have yet to finish Far Cry 4, and yet Rage 2 kept my interest enough to plow through the game over a couple weeks, which is saying something, especially when I was playing Bloodborne on the PS4 at the same time, which is a holyfucking masterpiece.
Basically the story is fairly generic, the intro to the game could have been Serious Sam style funcheese, but it really felt like it took the middle ground of taking itself too seriously, sort of. The character you play (Walker… Ranger.. .get it?), while voiced well, is supergeneric action hero man with very little to cling to character-wise. The main guy from Bulletstorm or the a'fore mentioned Serious Sam are done quite a bit better. I was waiting for some more Chuck Norris jokes, but I didn't notice any.
It's got to be rough for a Bethesda studio to take on post-apocalyptic without it being Fallout, but for me, I was glad that it's totally separate as Rage 2 has a different focus; one that I felt they hit right on the nose: the firefights and gunplay. This is where id software absolutely shines and damn the firefights are fun, especially the set pieces at various bases. Everything else in the game is just a distraction from the firefights really.
The guns are good, but I found myself using the shotgun for just about everything and then the assault rifle for the rest with occasional use of the rocket launcher. You can pretty much get through the game with those three weapons no problem. The 'nailgun' type weapon that does more damage the more it fires is useful for boss fights, but that's about it. The 'set people on fire' pistol is solid fun, but I found myself just always wanting the shotgun instead. Overall, nothing really crazy here in terms of weapons except some are full on useless compared to others (the settler pistol for instance). I loved the fact that there was no sniper rifle! None of that wussy shit!
What I didn't like is when you get in firefights, your enemies don't drop ammo so you tend to avoid any fights while you are on your way to a mission zone, there isn't any reason other than feltrite to kill stuff. They also don't drop guns– you have special Ranger-only guns throughout the game so their guns are shytte anyway. However, I've found myself out of ammo and it would have been nice to pick up a crap submachine gun to finish off the last few guys without having to wait for my Ranger Power timers to cooldown.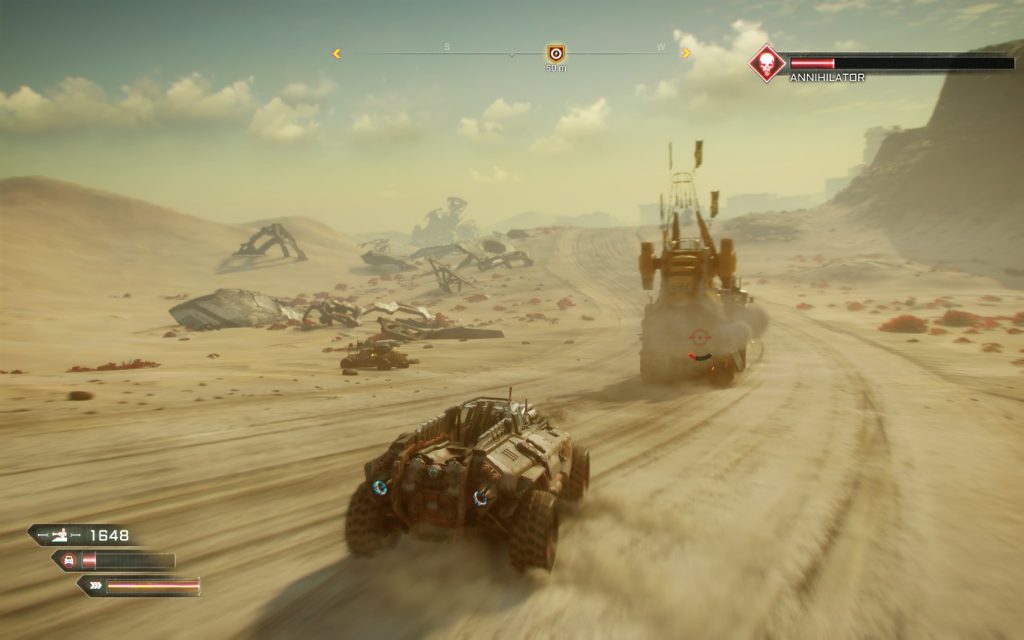 Which brings us to the powers. The MEAT of Rage 2 is the creative and combination-al use of the environment, weapons and powers in the game. When you start to get access to powers, you start to be able to do all sorts of funky stuff and interact with the physics of the game. Some of the stuff I used a lot (the big 'stomp' power just like Saints Row 4) and some not at all (the hold-jump while aiming thing or any of the grenade knock back powers). My favorite thing was probably setting up an electrified shield and then throwing out the mini-black hole thing which would suck everyone into the shield to get electrified. There's a lot of fun play here due to the chaos of the physics and what the powers do. If I play it again with the next expansion, it will be for this stuff alone.
I found the actual upgrade system really frustrating, with levels purchased with feltrite and perks and nanotrites and what the hell is all this shit? This is a game where I may have just wanted straight unlocks without any choice on my part, just to remove the hassle. Plus on PC, the UI for upgrading levels was so weird I had to look up on the interweb tubes how to do it.
If you get this game and want to get to the fun real fast to see if you like it, start the game, sit through the intro then press the FOCUS key when you get out of the first town. On the horizon you will see these rainbow colored beams shooting up into the air. Go to all of them as quickly as you can and get the stuff inside the arcs. Do this before anything else!
Cars and stuff
I liked this better than Rage 1, but … it was lackluster. What I wanted out of the game was TWISTED METAL and they just did not deliver. They had all these different cars, monster trucks, tanks, funny wheeled tanks, some advanced vehicles– but there simply wasn't any meaningful car combat AT ALL. Yes you can go after the big rigs and their escorts, but the escorts don't break off and engage, they simply stay in formation and let you shoot the fuck out of them. You do not get vehicularily attacked on the roads either except by a couple punks on bikes which do nothing. They have a big race track, but NO arena style combat. This was a fucking HUGE opportunity missed in my opinion and I'm not sure how this could have happened, it almost feels like they were going for it but had to cut it out.
Overall, there are two vehicles you need. The first one you get (that… talks….) and the flying Icarus bike. The first one is good for combat and is fairly fast on the road and the Icarus flies so you can avoid all the nonsense twisting around of roads to get to where you gots to go much faster. The racing cars were fun to drive too, but no weapons. All the rest of the cars and especially the motorcycles were not that fun to drive, and not fast enough (with enough control) to warrant using.
Encounters and set pieces are a mixed bag, with some being incredible and some being pretty boring. A lot of the random road encounters are of two types. First are just people standing in the road waiting. Not going anywhere, just standing around. That's pretty odd. Secondly there are two groups fighting at very close range, also sometimes in the middle of the road. Every once in a while you will see a group carting something somewhere or carrying boxes or sitting around a fire, but it's fairly rare. There are very few ambushes on the roads, I think I saw only two.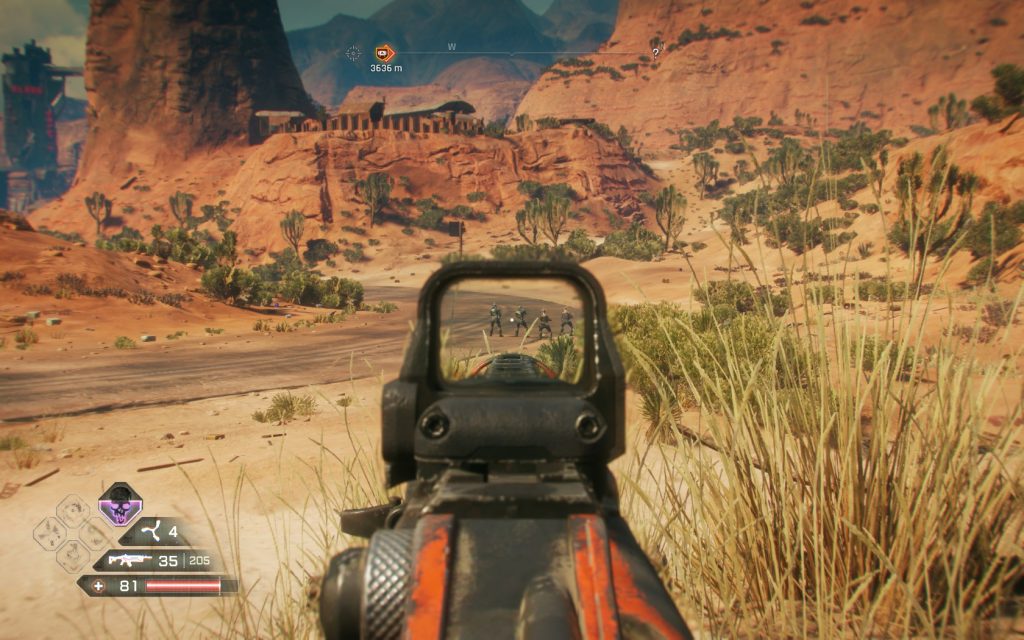 The set pieces, like bases and road blockers are all pretty solid, with some very interesting environments mixed in. Fights in big towers, cliff faces, all seem to be goon squad base which are the best. The Mutants have caves, which give interesting (but eventually repetitive) indoor environments. The River Hogs and the Shrouded have pretty boring bases compared to the other two, but the fights are more difficult as their weapons and armor are better. Many of the set pieces are similar in pattern, so when you've destroyed 2-3 bases, you sort of know what all there rest will be like, with the exception of the Goon Squad (punk looking dudes) which seem to have the most interesting and varied bases.
The boss fights are not too bad, but nothing awe inspiring. The boss designs are cool, but not really all that varied. Only fighting one type of boss during the game would have been better (like in the Souls series– you never fight the same boss twice unless it's an early game one that shows up as a normal enemy late game. Early in the game, I got in a situation with one boss where I skilled through the fight before the boss and then with my load out at that time of powers it was impossible (I tried like 20 times) to defeat the boss and his respawning minions. At this same time I took down the Blood Starved Beast and Vicar Amelia in Bloodborne…so this was very frustrating.
Lastly the environments, characters and visuals. Graphically this game is fanfucking tastic. The places you can go are trashy and beautiful at the same time. There is amazing amounts of detail in the buildings and environments and, like ALL id games, it pays to look around at everything and how lovingly crafted it is. I loved loved loved the look of the explosions, GREASY explosions all over the place and could probably watch that shit all day.
Character wise, I was impressed at the visuals, but man the people in this game have all been beaten with the ugly stick, and I mean BAD. Especially the women. All of the women in the game with the exception of two that I remember seeing were made to be as physically repulsive as possible. Terrible haircuts, awful facial features, dirt and grime, puking on themselves, and generally women, even in the civilized settlements, that have zero concern for their attire or appearance at all. These are not irradiated desert dwellers, but people that live in rooms and apartments. I get that video game women are typically either supermodels or elderly with nothing in between (Kingdom Come does a good job of mitigating this a bit, since none of the women are supermodelesque, but they aren't ugly either), but Rage has swung so far to the ugly that I can't help but mention it over and over. Here are some examples.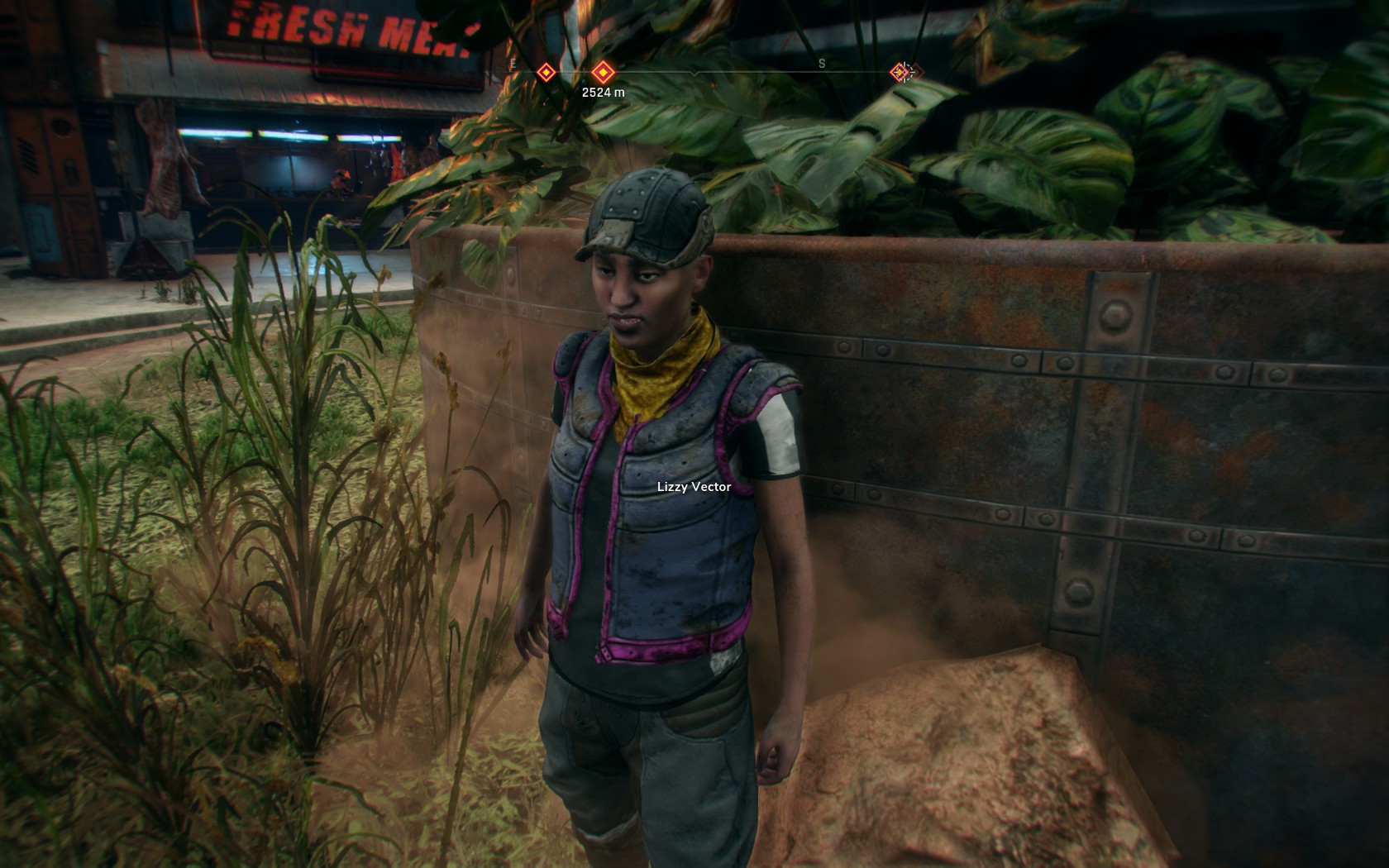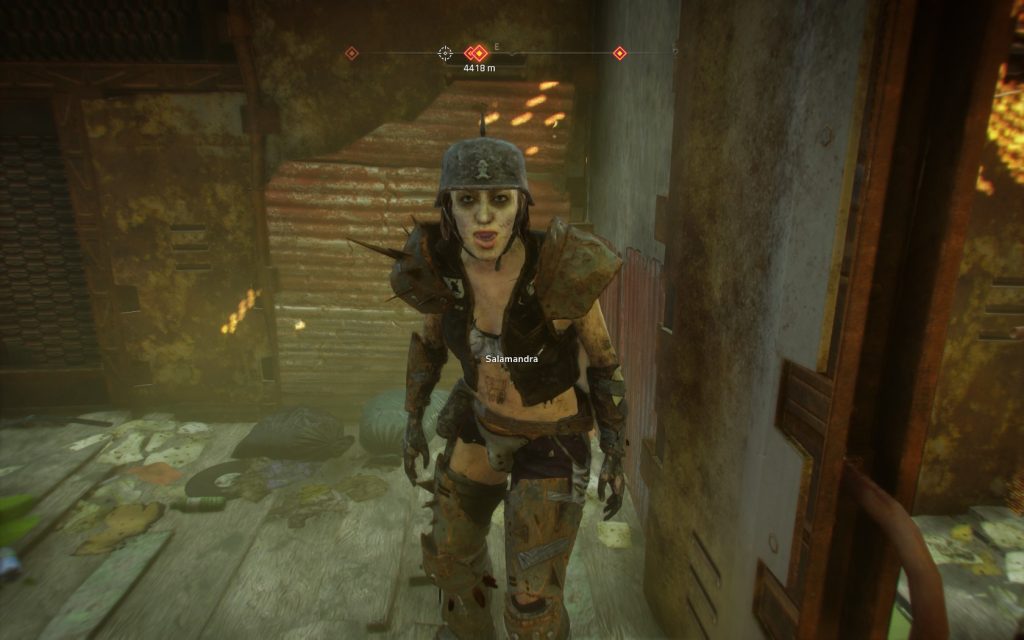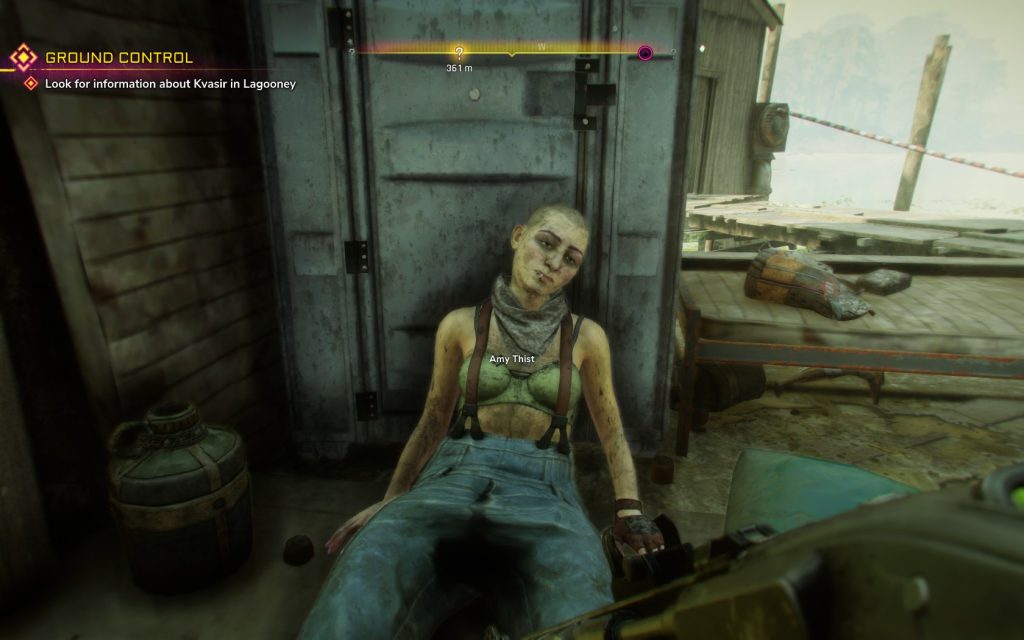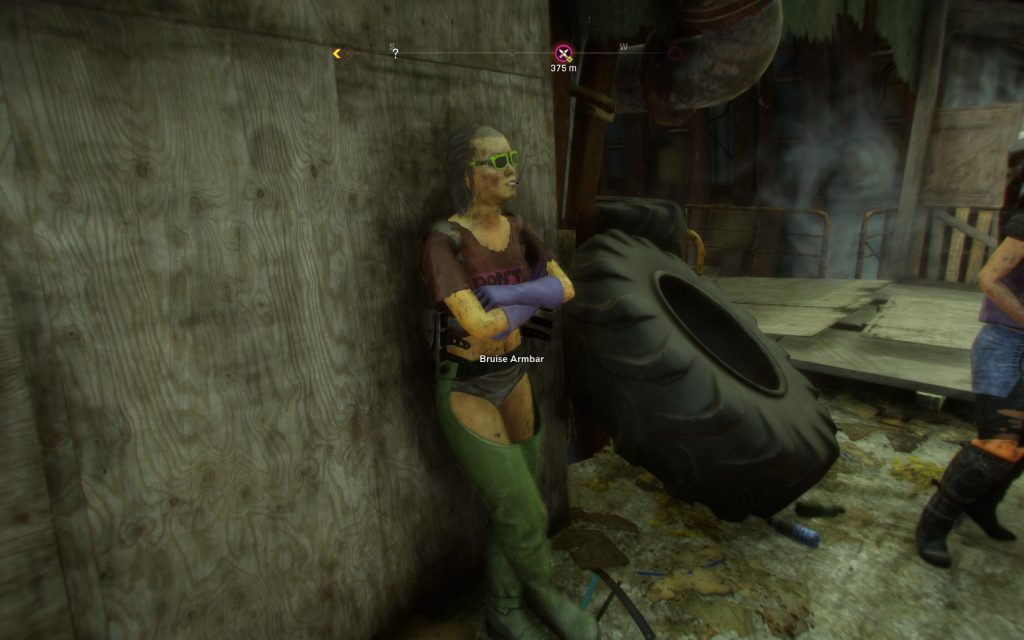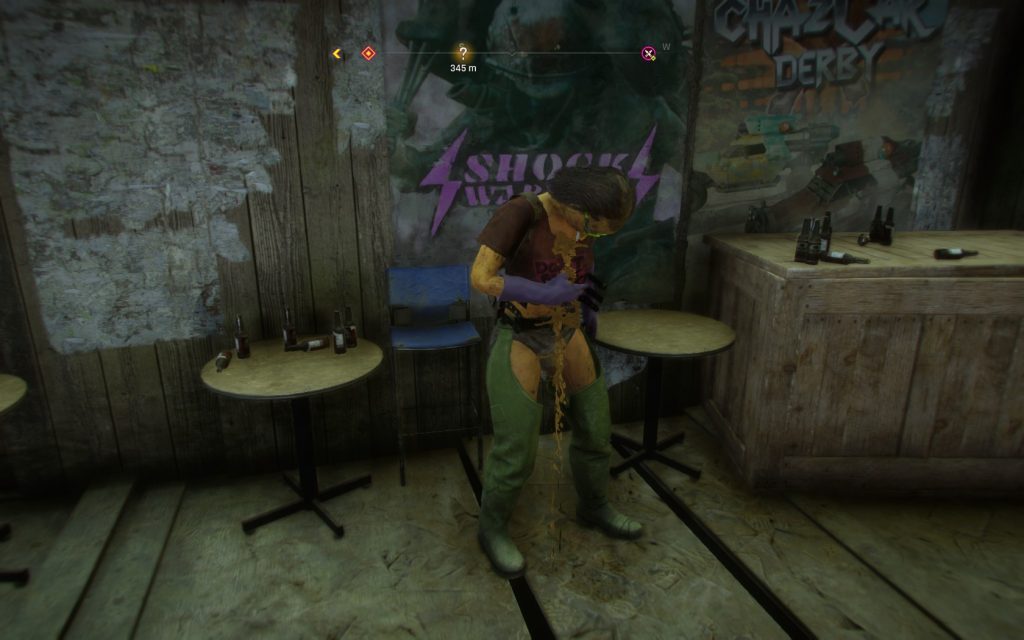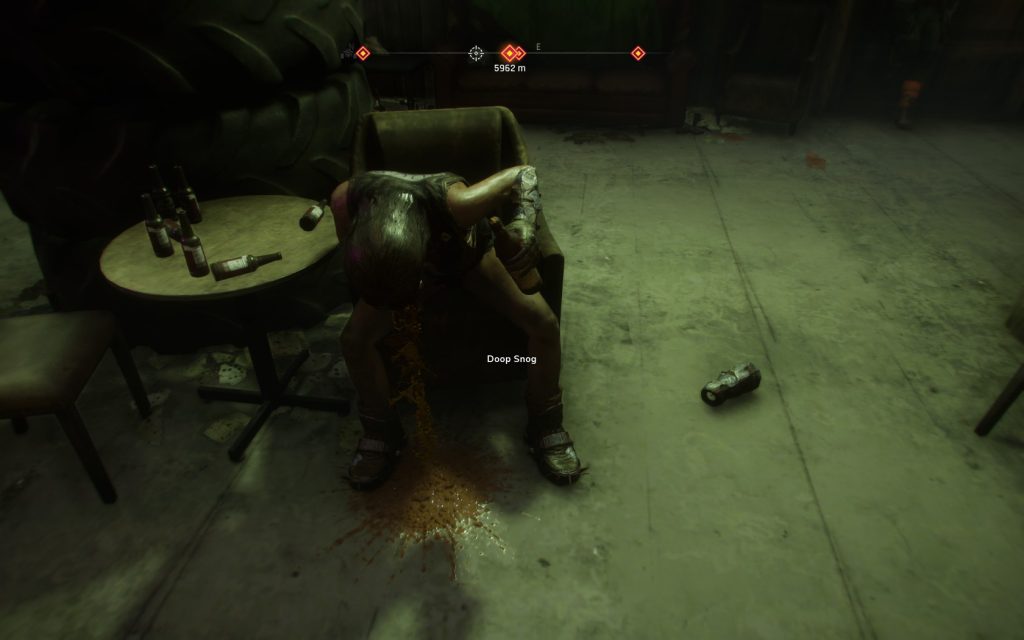 And a shot from RAGE 1 of the hottie just for memories.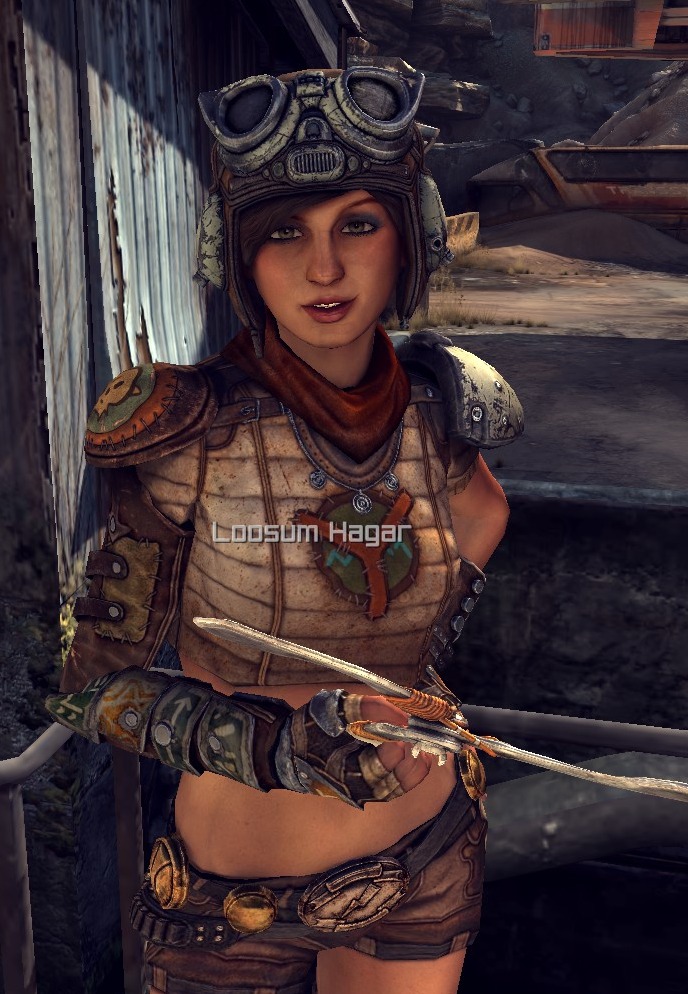 And didn't Moonbeam McSwine teach us that you can still be hot and live in FILTH?

My overall take on Rage 2 is that it has some bugs, it's got GREAT shooting and powers combat, but is lacking in the Twisted Metal vehicle combat department, which I was really expecting. The bosses are underwhelming, which may be a product of it being very hard to make large bosses for a first person shooter. The story… doesn't matter. While it has some flaws, Rage 2 finds it's redemption in it's core gameplay as a crazy shooter.