Wow, time flies. These buff, ridiculously colored and named action figures absolutely captured my imagination when they came out and I collected quite a few of them along with the repainted GI Joe tiger (Battlecat), Castle Greyskull (nowhere near as cool as the box OR the prototype used for the commercials) and a bunch of the early wave figures (pre-snakemen/horde/She-Ra) as a kid and constantly played with them for years. I could only bring a few toys with me on a cross-country train trip when I was 11 and it was Skeletor, Man-at-Arms, He-Man and Beastman FTW.
I loved the little comic books that came with the figures, and my personal canon for how He-man got his powers is contained in the first little book that came with him. He was a savage man in the jungle that saves a hot green chick from a giant hydra monster. She gives him the Battle Ram, Shield and Chest 'armor' that acts as a force shield and increases his strength and sends him forth to go kick some ass!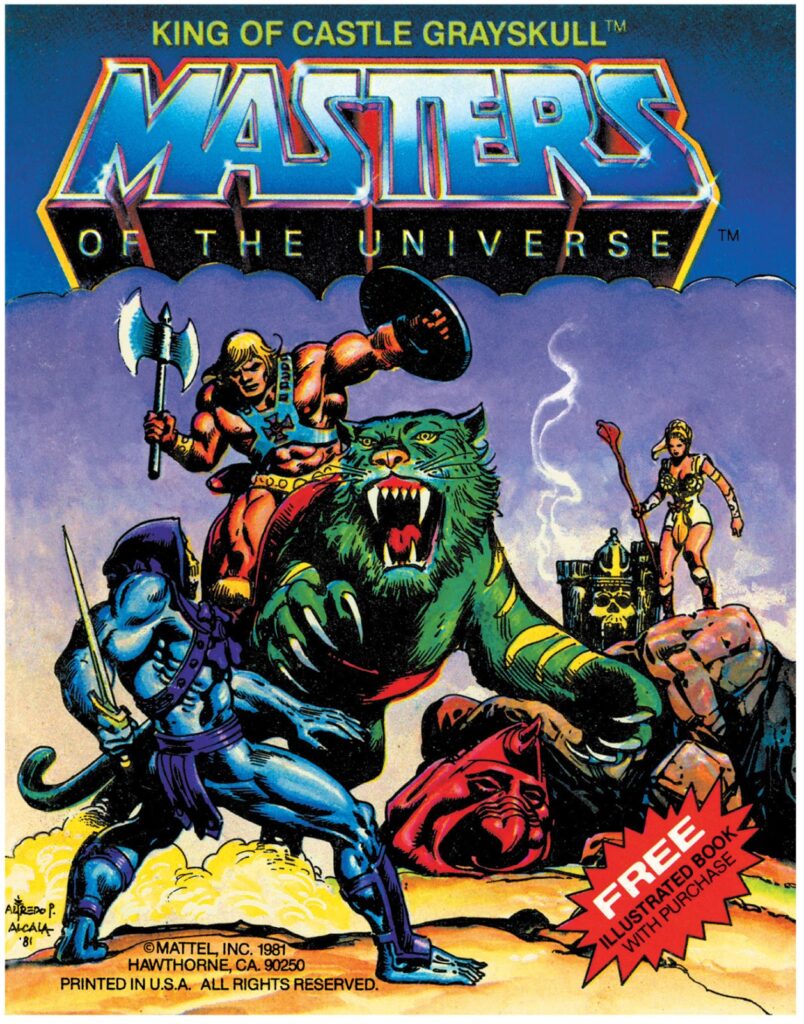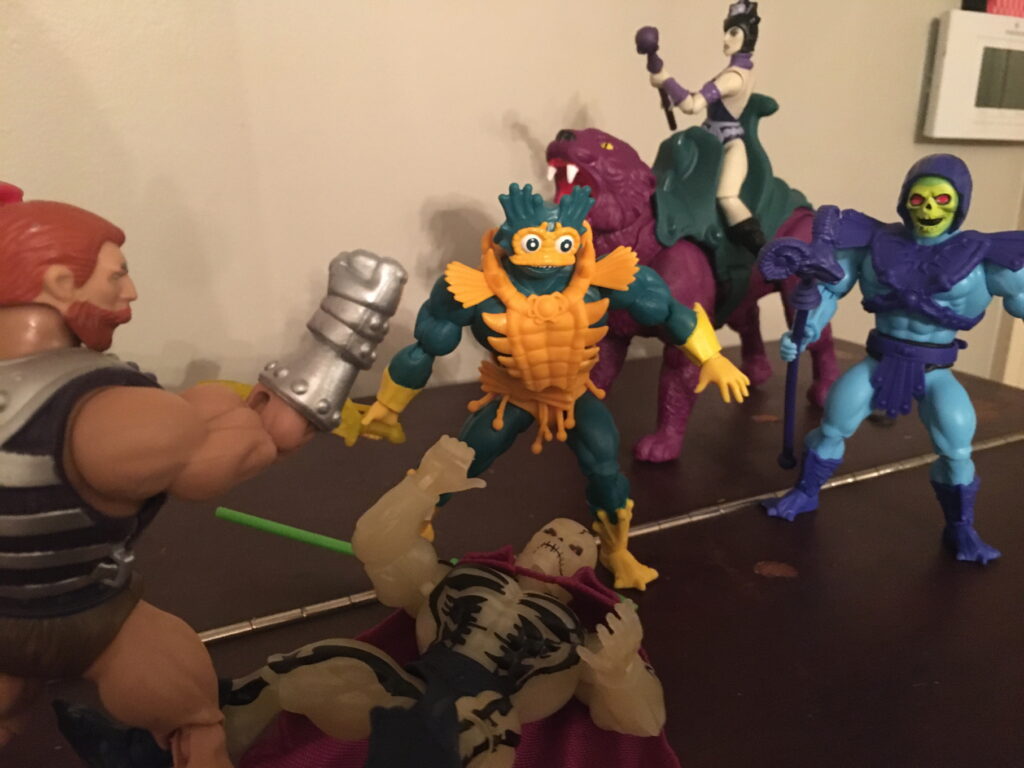 The old cartoon was like a painful parody for me, having played with Skeletor, Merman, Beastman, He-Man, TriKlops, Trapjaw, Man-E-Faces, and Man at Arms for more afternoons and weekends with friends and my brother than I can possibly remember. Together we created sword and sorcery adventures and back stories for these guys expanded from the little books which were blown to shit by the rather silly cartoon show. It never grew on me since, but the 2002-2004 show was absolutely baller in comparison.
Fast forward quite a few years and Mattel has created what I believe to be the absolute best relaunch of action figures in history: the MOTU ORIGINS line. While I have my beaten and mostly broken figures from the 80's, these new figures are better in every single way, tough, solid colors, very well articulated. It's been a guilty indulgence to collect some of them at first and then– I just went and bought just about everything. Luckily I have a son just a bit older than when they first came out who plays with them sometimes: an easy excuse to by more and slip them into stockings and Xmas gifts. I also buy a bunch to donate to toy drives around Christmas because holy shit— any kid that gets these for Xmas of a certain age is going to be totally fucking stoked.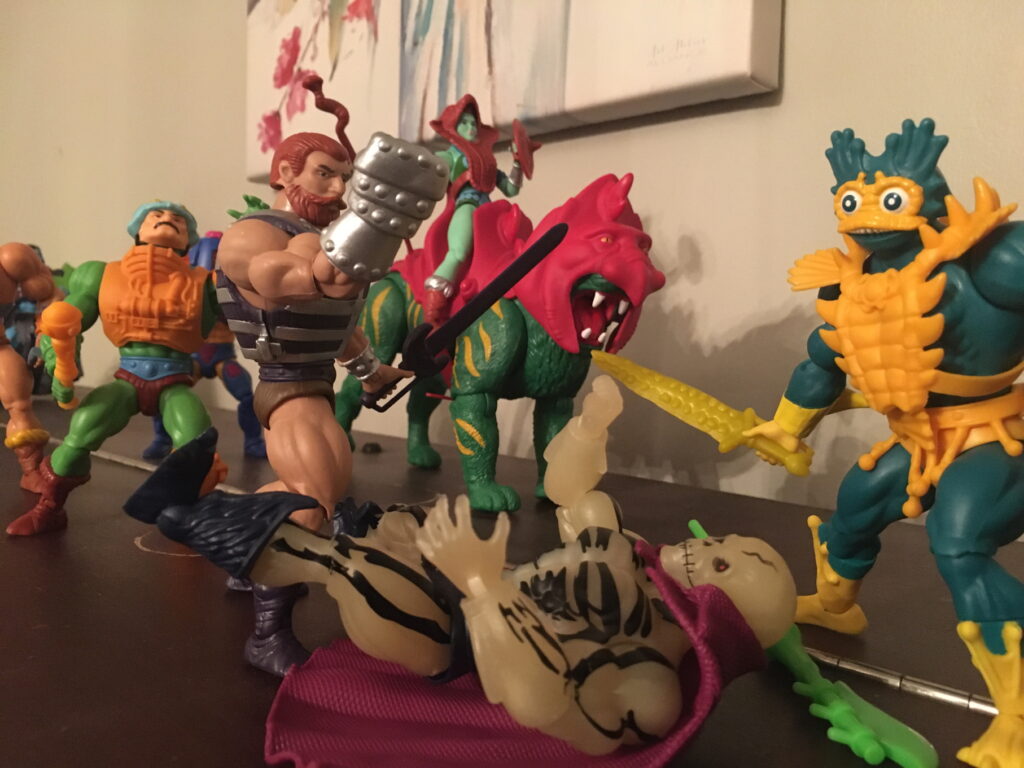 Figure wise, everything is top drawer, and they really tried to capture the spirit of the older figures and create the new, far better, articulated versions. What's more, they can all be taken apart and rejiggered into new monstrosities. He-man head swapping is a must as the stock head isn't the CONAN head from the original figure but a more cartoony one (that looks great, it's just not exactly He-man to me).
My favorites are Merman (powerlord version), He-Man himself, pre-Skull Skeletor, and, very unexpectedly, ORKO. The Orko figure is just brilliant and super cool to look at. He was my most hated character in the show… so that says something as to how good this figure is.
There was, of course, trouble with acquiring some of the core figures and I still do not have Trapjaw or Triklops as they were part of a 'missing wave' of figures between Walmart's exclusive rights for the first waves and the rest of the stores getting their waves. Sad because those were two of my favorite figures.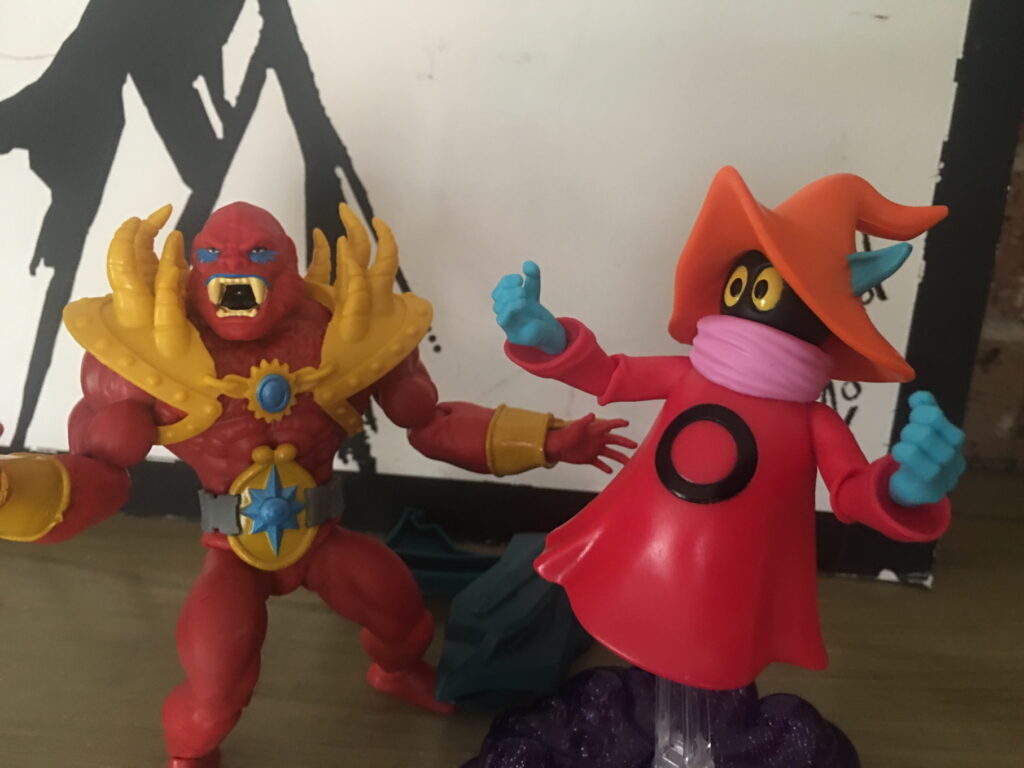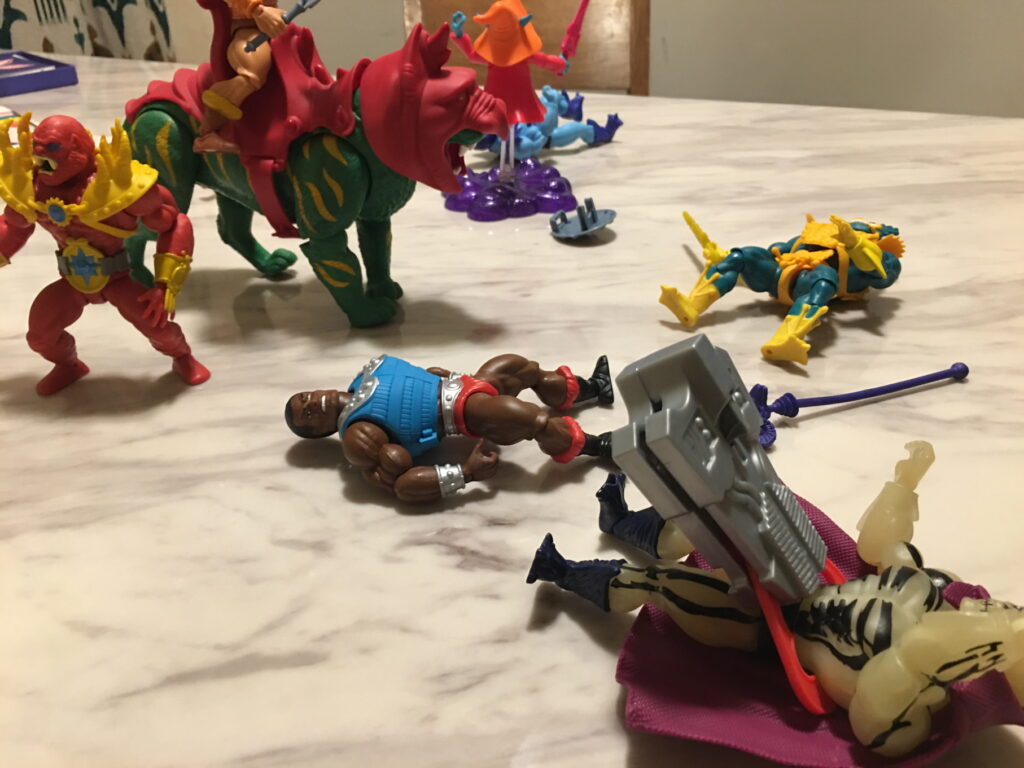 The line now is getting into eras of He-man when I was in late Jr High and high school and just didn't follow, but I'm looking forward to some of the stuff (Skeletor's rotating attack vehicle and some of the super cheesy She-Ra figures) and I'll keep using the excuse of having a kid that likes to play with them as long as I can!