no man's sky on PS4 has no install. wtf. no install. after playing so many games on ps4 and getting used to a 10-15min install process, NMS has no install. that was the first signal that there was no MEAT in NMS. SURE the game is procedural so you'd expect the game to be lean, but ZERO install? red flag. a 1GB patch did install, so i'm gaming on v1.03 of NMS. there was no manual in the game case. fuckthat for 60$ plus tax i want a unless manual! hello games is making hand over fist moneyhats i guess. i mean 10 people studio, sounds like they stayed independant, didn't take dev money from SONY, so like let's say hello games is getting like 20$ per copy sold for NMS. i bet they sold at least 500k copies, which is like 10 million bucks. or a million a person for 3+ years work on the low side. what does that matter? if you charge full price for  game you need to give the player full price trimmings. this is what will come out in the press and with fans over and over, is NMS worth the full $60 price. after 3 hours last night i'd say for most players NMS is overpriced.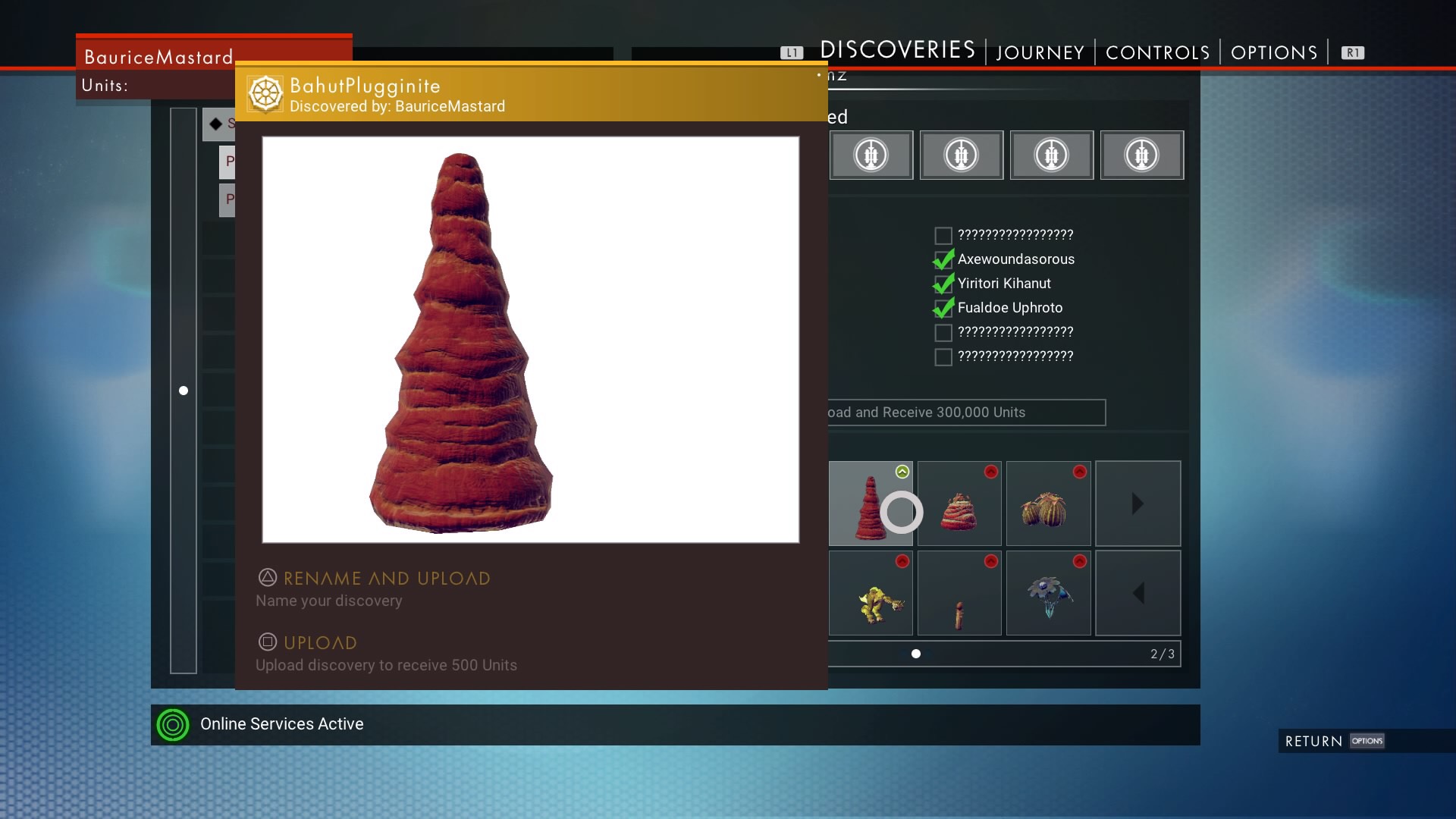 it's a survival/exploration game. that should be said by the developer over and fucking over. that is what the game is. there are other games that do the same thing but don't hide behind the whole "infinite universe" shit. from 3 hours of play i'm already seeing how in this "infinite" sandbox the similarities between locations (planets/moons) will be rather HIGH. that is disappointing if not expected. their procedural content generation technique is NOT designed new types of basic animal locomotion for example, no it is just using basic models like two-legged creature, four-legged creature, ooooh and yep you guessed it six-legged creature.  and these creatures, what the fuck do they do, NOTHING. shit they don't eat, shit, attach each other, mate, etc. they just are there, 3-4 at at time as background. ya sometimes they are hostile to you and you have to beat them back which feels like SHIT. the FPS combat on planets feels like shit and then you are shooting some little crab thing and it feels like stupid shit. you'll never see TRULY fantastics creatures, like that monster from The Thing, Falor from The Neverending Story, Alien(s) from the Alien series, etc. the devs didn't have the resources to create really fantastical types of creatures, nor the time / processing power to properly animate them and breath life into them with interesting AI. OF COURSE I'VE ONLY PLAYED 3 HOURS SO WTF DO I KNOW BUT THIS IS MY BOLD PREDICKTION. the creatures in the game will be super fucking boring and hollow.
survival from the very start! little to no tutorial showing what you should try to do. this is a strength because you a freaked out about how to even survive right out the gate. i have not died yet, but many people have immediately and talked about that experience online. that is excellent.
no one told me that killing plants/animals was "bad" with some shitty little tutorial messages. you find out that when you kill shit causing omnipresent sentinels to come and investigate with little scanner bots, if you keep killing shit while sentinels scanner bots are watching you, the bots start attacking thus a cycle of escalation like getting stars in grand theft auto begins. okay that is fine and works to add more consequence to your actions. you can't just fucking kill everything you see without getting fucked by the the robot guys. okay fine. you find that out yourself while playing. perfect.
far as i could tell right away are tasked with repairing your ship, which requires collecting elements(iron, plutonium etc). you can mine shit with laser gun omnitool thing. that is fine. you can send out a scan pulse to find the shit you can mine. okay that is fine. the graphics of the planet you start on feel okay, they feel kinda low budget/procedural in nature.
SOUND, very meh. the music is okay but nothing in the ambient sounds of the planet i was on made it seem very alien.
the weather was clear and cold i think. you have to manage a resource which is your spacesuits power to shield you from either extreme cold or extreme heat. if the environment shield goes to zero, you start taking damage i imagine. i never let it go all the way down to find out though. charging your heat/cold shield takes the yellow elements.
TAKING DAMAGE. yes you take damage from being attacked and also just walking around over time, and you fix that game by consuming RED resources, which are elements like Carbon which you get by mining planets or killing animals. BUT you can also use a element like plutonium to heal yourself i think because it is red. i think, can't really remember but there seems to be some leeway in what you can use to "heal" your character guy.
i think there is a combat shield or something, but i'm not sure really. something that sops up the first couple hits before they start doing real damage, but i'm not sure because there wasn't a tutorial to explain and the game comes with no fucking manual.
you can't just press one button on the controller to heal, you have to open a menu, click on which thing to repair(heal), which opens another menu and choose which element/item you are going to use. this is difficult to do when you are running away from something or being attacked as you still stop dead in your tracks to process this action. THAT IS FINE it adds tension and causes you to make sure your shit is fixed up nice before you try to explore something that might be dangerous.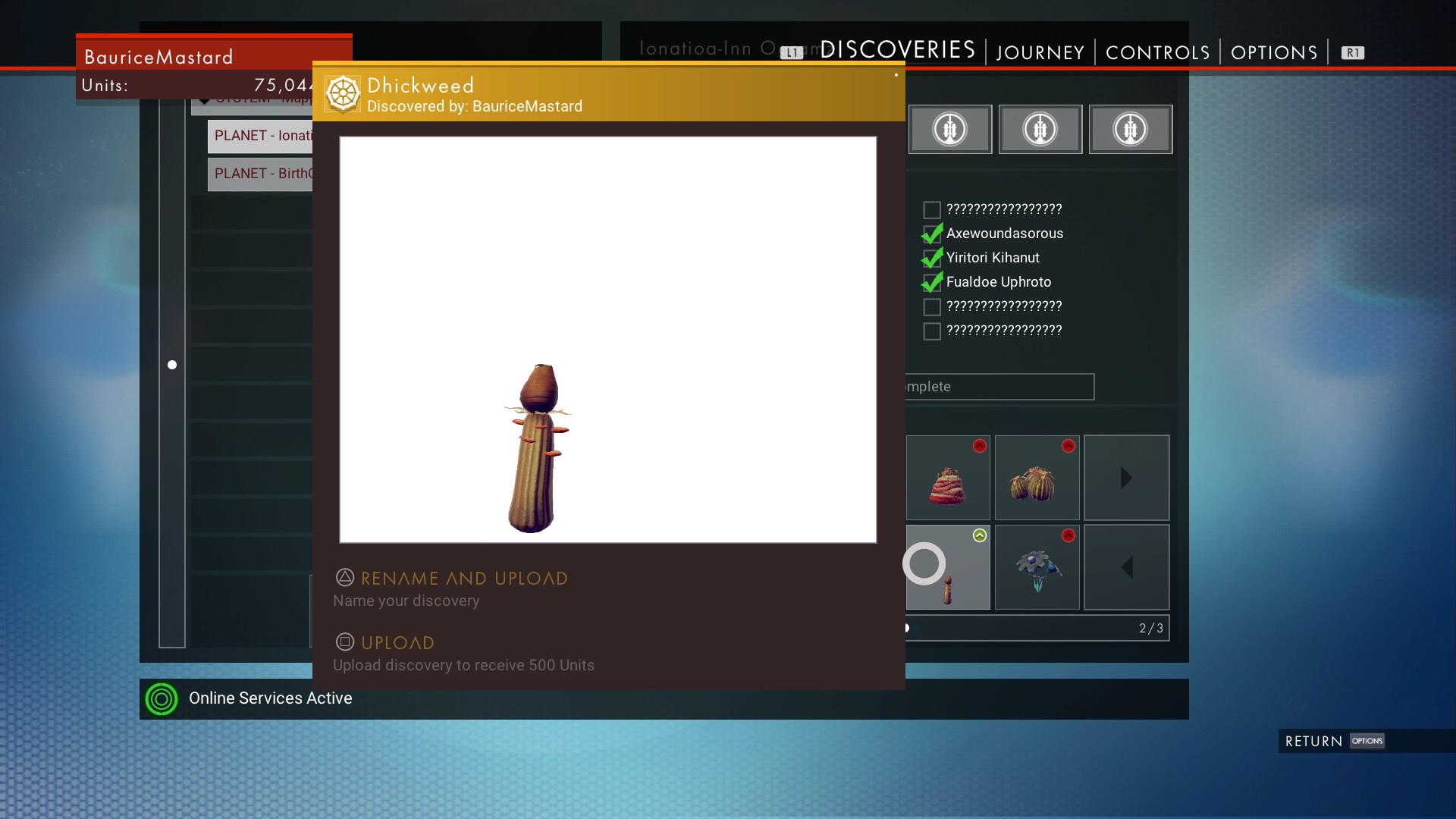 you can name stuff you discover. other players will someday share the joy when they visit worlds you've pissed all over with words.