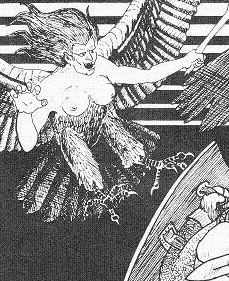 Not without some trepidation after a disasterous D&D session at a bachelor party in 2005 did I agree to a day long Pathfinder session for a buddy's birthday.  Having only had the chance to play an RPG a few times, and with my majority exposure to version 3.0 being the excellent CRPG Temple of Elemental Evil, I said yes.   Since it was in the company of friends, food and beer, there was no question at all that it was fun, so I want to focus on a few things in the system that irked me a bit.  While the session was entertaining, it ratified some of my previous feelings that the D20 system has a very odd abstraction of combat that really isn't very good when you get right down to it.
First is initiative.  Pathfinder's initiative system makes zero changes from 3rd edition, 2nd edition and as far as I can remember uses the same initiative system as basic D&D.  Each character rolls a D20, adds some modifiers and take their attack turns in that order.  Regardless of the type of action the character takes, their initiative order does not change at any point during combat, regardless of 'wounds' and regardless of the action they took until a character or enemy is incapacitated.  Essentially, characters have 6 seconds to act in and order based on an arbitrary role at the beginning of combat.  That said, I failed to see the real advantage of going first.  Compared to other systems (I'm tempted to say 'more modern systems' here but will abstain) the initiative system has a frustrating lack of tactical depth.  In most RPG's I've played or GM'ed since playing D&D as a kid,  a character's speed and actions taken during their turn effect the next time they can act, how they are able to defend, etc.   While the initiative system in this version of D&D works, it has a distinct lack of allowing the player to make interesting choices.
Second beef is the single, massive spread of pips die roll to attack–i.e.: the basis for the entire D20 system.  In combat you make a couple choices, for example: whether to move attack/ attack move whether or not to use a feat, etc.  What it really boils down to are modifiers on a single die roll where each pip represents +/-5%.  If you roll high enough, you get to roll another die for damage.  If you roll low, your turn is over.  There are no attack rerolls, no way to expend power points or whatnotall to enhance your attack, and while the choice of feats to use can be somewhat interesting, it typically only increases or decreases the attack roll by 5-10%.  What's more, your attack roll has nothing to do with anything your opponent did previously, and your opponent cannot react at all to your attack, whether it's an (abstracted) flurry of fists or a massive haymaker with a halberd.
Third, and this is the big one for me, is the lack of narrative combat options: i.e.: stunting. During the session I kept wanting to blurt out some heroic, stylish, wuxia-infused description of a clever use of the scenery, my weapon or the opponent's position to not only spice up the proceedings, but to gain some extra dice/pips to hit, etc. I realized during the session that I hadn't played a game without some form of stunting, whether it was Werewolf, Exalted, Amber diceless or Feng Shui for a decade or so. I've been exposed so much to players always stunting everything that I had forgotten just how like a dry wind through a soulless city (like, say, Houston) narrative roleplaying combat was without it.
Years ago during a session of Feng Shui, an old school D&D player (who we will call Steve to protect the innocent) had real problems wrapping his head around the stunting system while fighting some mooks inside a fully stocked kitchen no less. After some frustrating attempts at stunting and goading from the other players he would simply say "Medium punch to no specific location."    He eventually picked up the torch and can now stunt to consistently help other players to roll on the floor in laughter or state the softly spoken 'badass' compliment.  Yet, this phrase is the essence of my issue with the D20 system. Combat becomes an exercise of moving miniatures, adding up the bonuses and rolling one die representing an abstracted set of combat actions that take exactly six seconds. If you roll high you get to roll another die– and that's it. While miniature-based, Pathfinder/D&D is just not good miniature combat (like say Confrontation), nor does it capture the narrative possibilities that exist for pen and paper RPGs. For me personally, stunting in combat is sine qua non. Without it, my Confrontation/Warhammer/Blood Bowl miniature game player brain takes over and it's all about abusing scenery, wishing I had a lot more than just one little plastic figure to control and little quirks in the rules rather than a flowing narrative.