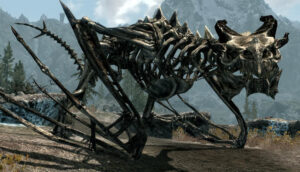 Spoilers.
I'm running around Whiterun.  I'm cash strapped because I refuse to sell my refuse or just can't take the time between random quests.   I start wandering around outside of a city and bam– dragon– a representation of a ~500 gold pieces in flying lizard form.  Kill: loot the bones and scales, sell. Repeat.   With 10 I can buy a house. With 20 I can buy a bigger house!   That said, why would I want to end the dragon attacks?  Why would I not want to wander Skyrim ad infinitum to murdalize the 500 gold piece flying geckos for fun and profit?
These things ran through my head while moving through the main quest– obviously there is a large battle with a dragon of some kind that seems like the end of the game (it's not) and I thought: do I really want to kill off all these flying cash cows?  What if there's something from the Dawnguard expansion that I really want to buy but I can't afford– I won't be able to just wander around and take some dragons down for a quick couple thousand gold (BTW– where is the Creeper??).  Now sometimes there aren't dragons around, so it's not really a rapid path to cash in Skyrim, but then again–whenever you hear that far off dragon sound, you know 500 gold is coming your way no problem.
And what have the dragons done that's so bad?  They just seem to fly around the wastes and burn hunters or groups of imperials/stormcloaks/Thalmor escorting prisoners.  They don't seem to attack any inhabited areas or burn any towns to the ground.  Could it be that they really aren't that bad?  Could it be that the World Eater really isn't that hungry?
That said, Skyrim, as we all know, is pretty awesome.  There are just so many places in the game, so many sub-plots and guilds and NPC's with little adventure hooks it's madness.  I remember stuff like: oh that's from last year (as in 2011) when I was a were wolf.   Now I took a long break,  mostly due to Saints Row 3 and Shogun Total War 2, but getting back to Skyrim has been fawesome.  I delved into the mega dungeon (as part of the main quest) and man they really went to town.  While areas certainly are never maze-like, they certainly went TEXAS BIG on everything, even underground.
My build, predictably, is pure shit, just do exactly the opposite of this and you will do well. In the Elder Scrolls games,  I always start with a Dark Elf and then do something OTHER than what the Dark Elves are good at– and too much of everything without a focus on any one skill.  That is, I suck at destruction magic and I decided to go 2-handed instead of 1 -handed for the weapons after going one handed + shield for awhile, as well as heavy armor topped off with a dose of archery and a lot of Alchemy.  Alchemy has it's place in the ES series, but it NEEDS SOME LOVE.  Healing potions get used a lot but it seems so artificial to have to go into inventory to pop a potion (while the game is paused) while other means (spells and scrolls) you actually have to cast on yourself to get to work in real time.  Why I continue to keep going heavy Alchemy is beyond me…