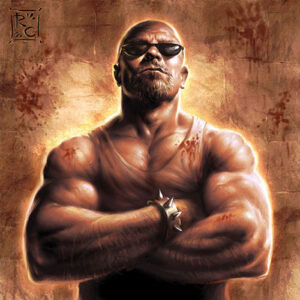 Nodamage and I headed out to Plattcon yesterday and though it's a smallesque nerdcon, it had a very big game for me– the Wisconsin State Shadowfist Championships organized by John Monett.  The board game room was dead (where were the free-rental board game guys that made it to the similarly sized Gaming Hoopla?) so Nodamage was dragged into 5 hours or so of Shadowfist as an almost n00b.  Not expecting it at all but I pulled enough points to get to the winners table and then caught a few breaks in the final for the win.  I'm the Shadowfist Wisconsin state champion for 2011, the big cheese as it were.
My first game was horrible with just a spew of foundation characters coming from my hand and I figured I wouldn't be able to do anything during the tournament, but game 2, even without any Dragon resources, I was able to rapine through defenses with everyone's favorite dude with a rock chained to him: Shun Dai.
The final was a mosh, Decks were (as far as I can tell): Dragon/Monarchs, Monarch Fire deck, Jammer Deck and my Hand/Dragon.  The Monarch Fire player got to 4 sites really fast with two Fire Mystics who were also hurting everyone's cards whenever an event hit the table, what's more, the Jammer deck had Frag the G out for more site damage– so sites were falling fast to smallish characters.  Three turns to the end I had no sites on the table and one in my burned for victory pile with what looked like no way to win.  But the worm turned and I got a couple sites out and a Big Bruiser who started hitting the damaged sites with no blockers that could stand up to his beats.  A big part of the endgame was that Ting Ting, played by the Monarch/Dragon player, got toasted by a card I had never even seen before— ouch.
My MVP cards were:
Character: Shun Dai (got me into the final)
Event: Blue Meditation
State: No states in the deck
Edge: Chinese Connection
Sites: Tomb of Angry Spirits
I didn't take notes like I do at Gencon about decks, but there was a scary Jammer deck there and of course, whatever Willow puts together usually hits like a ton of bricks, but I only played her in the final and didn't see enough to know what her combos were about.  All in all some great games and looking forward to seeing everyone at Gencon for some more beatings.