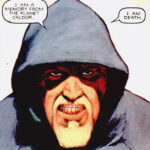 From a few years back:
To whomever left the stack of old Dreadstar comics in the 3rd floor men's room…
At first I laughed at them. But during my restroom visits over the past few weeks I have come to appreciate and enjoy the adventures Of Vanth Dreastar, Oedi the cunning cat-man, Iron Angel, and the rest of this rag-tag crew of space-adventurers. Plus I think the reading is keeping me 'regular'.
So please bring in more issues, preferably where the other one's left off. I want to see how Vanth and Co are going to destroy the fat green guy they just mistakenly made ruler of the universe.