I'm shit at finishing games! I start something, get about 20 hours in and then off to something entirely different. For example, I'll be running a bunch of RPG's and then boom I'll think shit I haven't played X game yet (like Witcher 3 or something) and then I'm down that rabbit hole. While there, I'll think– shit, we haven't played enough Warhammer Fantasy Battle recently and off I go.
So, like Dark Souls, this is a momentous occasion– finishing FO4. Now I'm going to write about it, and there will be pictures.
Straight up, I think FO4 is an amazing game, but it did not grab me at first. Right out of the vault, I felt it was too much like FO3 and the initial NPC's felt flat. However, the game grew on me immensely to the point where it's up with Skyrim as one of the best open world RPG's and true to Bethesda's legacy with the series.
Let's get to some gripes. The game is clunky in many ways from the combat to the interface. This still does not detract from the overall experience for me as like Skyrim and Morrowind, it's like eating a side of beef, it's an unimaginable volume of content to plow though, a shocking number of voices to hear and so much to destroy (and build).
The shooting is better than Fallout 3, but being an FPS-lite and more RPG heavy, if you come from Far Cry or any other full FPS, you will have some disappointment with the gunplay. However, for an ARPG, the gunplay is a great improvement over older games. VATS is not something you can ignore despite the tendency for PAUSE-PLAY that I will get into more below.  I have a buddy that plays it for the shooting only and he has not stopped playing since launch.
Inventory management, especially on the PC, was very awkward, much like Skyrim, it's for the consoles, not for the GLORIOUS RACE of PC GAMERS. They made their choice and the developers know who is buttering their bread. It's not PC gamers.  This sucks for us, but is manageable.
Unlike some of the other FPS/RPG hybrids like Far Cry, FO4 is a PAUSE-PLAY game similar to Skyrim. As you're playing, you will constantly drop into 'paused' time: going in to inventory to switch weapons, take a healing potion or buff, or go into VATS mode. While a little better than Skyrim (especially since I was an Alchemist in that game and alchemy was the WORST offender for pause-play), I still feel that it destroys the FPS portions when you have to rattle through your inventory (or even CAN rattle through it) to change from a HAZMAT suit to the Mechanist armor in order to better take certain types of damage WHILE YOU ARE TAKING THAT DAMAGE. While I know there is a way for instant inventory and weapon switching to work (sort of like your belt of potions and stuff in Torchlight 2) I never really got the hang of, and resorted to hunting and pecking through my inventory like a chumpo.
Big fights (more than 10 on a side), just like FO3 and Skyrim, are still a problem. Any big fight in the game is a chaotic mess where you are just as likely to hit your allies who will then attack you so you have to reload from save than hit the enemy. In a big battle, the AI just stands point blank and shoots at you or each other, not taking cover or anything like that most of the time, but will do such things in smaller battles.  It's a bit comedic, but then becomes maddening as you have to play through to make sure you don't hit your own guys at all and also don't get greased yourself. Grenades or area effect weapons are useless because if you hit your own guys, they will turn on you. If you do not use VATS, chances are your own guys will run in front of you laying down automatic fire (and then turn on you). Luckily, there are few of these fights in the game, so just suffer through them.
Now the good stuff.
Atmosphere at first was sort of ho hum, but as you get deeper into the wasteland and especially into Boston, the true madness of how much was built for this game becomes apparent. When I first saw the area map, I thought it looked small to me. However, after playing through the game, the area and density of STUFF is massive to the point of being incomprehensible how they got all of it in. Boston is crazy because of it's verticality. You can traverse most of the city from above the streets and there are places you can't get to except by massive backtracking to get UP first, then across (and sometimes then down). Gone are the annoying and samey subway tunnels that connected everything in FO3, replaced with an entire second story and above ecosystem. Many is the time you will get shot from high above, and have to fight through level after level of baddies to get at that sniper high in a building above it all. Then you can rain death down from above (WAY above in some cases).
The weapon modification system is nothing short of amazing. It's very clunky at first, but once you learn how to do it, you can build weapons that do nearly exactly what you want. That said, if you are going to BUILD instead of FIND, you need to have a high INT score and SCIENCE to really make it worth while. I did not go this route during my play through.
Building shit is a huge part of FO4, and I will tell you that I was crap at it. My brother is the lego builder guy, and like me as a kid who built everything purely for FUNCTION with as little effort as possible into design or real efficient planning (or rework to remove MUDA), all my FO4 stuff looks and behaves like shit. I barely understand the electrical systems, which are not complicated, I never really had enough crap to build nice buildings or string wires logically. Even putting in a lightbulb most of the time was too much effort. Plus like I mentioned above, if you are going to really build stuff, you NEED Science.
The whole protect the settlements thing was quite fun, though it did get repetative.  Some of the settlements are built in terribly vulnerable areas, and the peoples are just asking to be killed outright by anything that wanders along.  Giving them a chance by building defenses and traps and stuff is rewarding when you see that stuff in action destroying raiders and mutants.  My favorite base was the old Drive in Theatre as it had enough space to really build a bunch of crazy shit.  Vault 88, when you find it, is quite cool as well, but you don't need to defend it at all.
Dressing up your little dolls (settlers) was fairly fun too, though it ended up being a bunch of naked guys and dolls with a couple pieces of armor on them since MOST clothing is mutually exclusive with armor.  I admit, I had fun with that barbie doll stuff.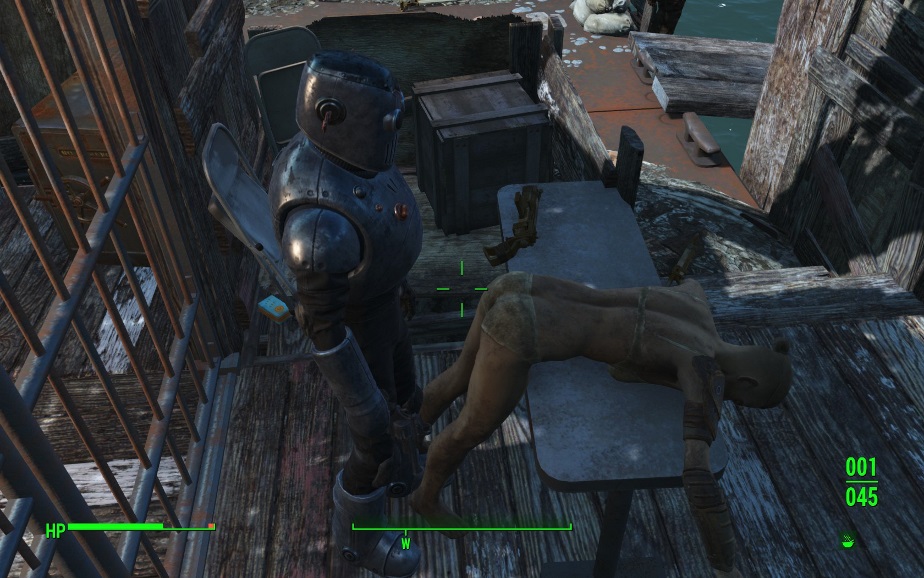 Now is the spoiler part about story. Stop reading.
Ok good. The main plot line is good enough for this sort of open world game and has a lot of the factionalization that Fallout 2 did. You have to make some hard choices about who to support and I think going back to the choice points and playing through to the end game, while long, may be worth it. In the end, I wanted to destroy them all and I will with the new NUKA World DLC.
During this play through, after sort of going the 'bad guy' route, decided to go with the good guys. While some of the factions are a bit shitty, none are outright evil, even the big bad guys (MIT), there's one faction in the game that are total boy scouts (and they dress stupidly), so if they dislike a certain faction, you probably know that faction is 'bad.' I guess despite the murderhoboism, I ended up being a murderous boy scout. People familiar with FO1 and 2 will have feelings about certain factions they encounter based on historical interactions, and they wrote that in there.
One of the main themes of Fallout 4 is the idea that species Homo Sapiens is not suitable for the new destroyed world, and many replacement options exist that are more suitable for survival. Super Mutants, Robots, Synths… and the quests and tasks wrestle with that theme as you move through the plots. Overall though, the whole "war never changes" thing wasn't addressed much, especially since you spend the game chasing down your long lost son.  There were some touching moments and I think the Female Lead voice actor did a great job with her lines.
In the end, I was simply a killing machine, that just happened to be pointed in the 'right' direction. Bethesda is smart, they know in a violent game that violence is the answer and redemption of the main character through violence is the ultimate goal. The dialog choices throughout the game give many 'mad dog' options to simply get the speaker to shut up and die already. The wasteland is a horrifying place with terrible people and creatures, yet Bethesda is able to lace in quite a bit of black humor, without it being fucking cheesy crap like Starcraft 2. The CHARGE CARD guy, if you ever find him, is hilarious in that regard, with a big fucking "KILL ME" painted throughout his dialog.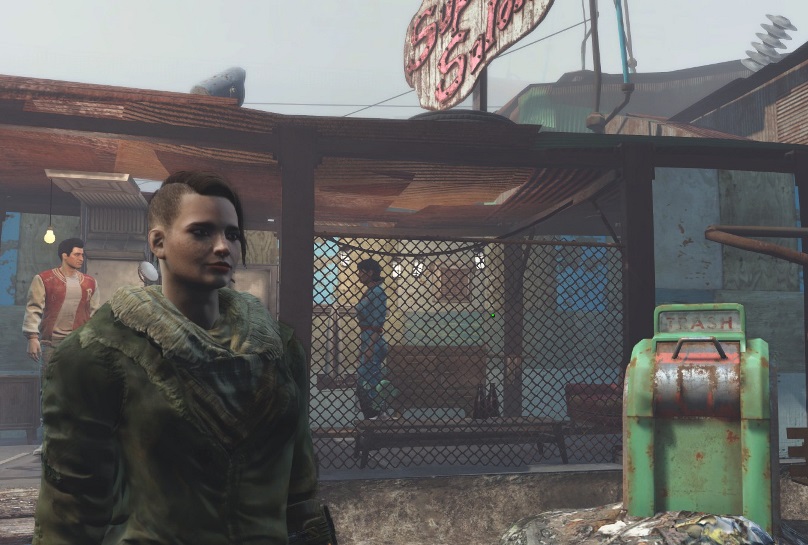 DLC
The first bit I want to mention was the hardcore survival mode.  This was an addon about 6 months ago that was basically FUCK YOU IMPOSSIBLE mod to dark souls up the game.  This is very different from playing the normal game, as you can be easily killed, weapons do TONS more damage (to enemies as well) and you can starve and get diseases and just have a really rough time of it.
While this official mod was very cool, some of the quests were really tough, as you could only save when you went to sleep and could never save during a quest itself, some of which being extremely long.  I would definitely finish the game REGULAR LIKE before playing in the hardcore mode.   Your goal will not be to 'finish' the game, but build an economy and settlements out so you don't starve and die off so easy.  There's also NO fast travel.  Very fun, very hard but you feel like you've grown a pair of balls just fighting off some raiders rather than mowing them down like leather grass.
I've only played through the Robot DLC so far and it was OK. The robot raider faction added to the main game that will show up wherever is a lot of fun to fight– quite unpredictable and with better weapons/armor. The Warbots from the original GAMMA WORLD are in full effect in FO4 and they show up a lot late game with the Robot DLC.
This DLC also adds Robot modification centers you can build and then craft your NPC robots. Again, you better have SCIENCE to really do it right. I made my robot, Ada, pink and gave her a different close combat weapon. That's about all I had the patience for.
All in all, FO4 is a classic, monumental game.  It's not as strikingly beautiful as Skyrim, and I daresay I liked Skyrim a spot more than FO4, but I need to go back to Skyrim to try it out again to really judge.
Next, on to Far Harbor and then… DOOM.