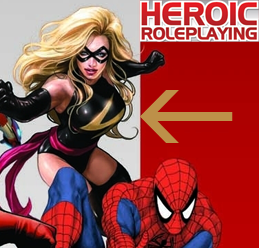 The new Marvel RPG is all the rage this week and it's only out in PDF format so far. It's very Fate-like, except it uses a bunch of the funny dice like D&D and is very abstract where stuff like Champions/Hero (and Exalted) are very precise and crunchy. While I find it completely impossible to imagine running an actual superhero RPG with my group, I like reading about the systems. I'm a bit of a Systems Addict actually so I stumble upon stuff of variable usefulness. Yesterday my stumbling came across a post about the Marvel RPG initiative system by one of the FATE creators, and apotheosis followed.
Initiative is a tough nut to crack in pen and paper RPG's because of turn angst.  Ideally you want something that rewards players who have spent some sort of resource for their speed, whether it's in items or their character build or even gotten a good die roll, but as RPG's have moved towards characters taking 'actions' or a 'scene' or in Marvel's case: a 'panel,' rather than attacks (with or without the stunts we so love now since Feng Shui) you don't want some characters dominating the combat scenarios by getting to take a turn more than other player's characters because then those people without fast characters just sit there… and sit there.
This has typically been solved, unsatisfactorily in my opinion, by a 'round the table' method where everyone rolls a die, maybe modified, and gets to go in that order, or someone on the player side goes first, then it goes around the table with the GM going last.   In contrast to this method is the tick-based systems of Exalted and Champions, where a character's actions determine how long it is until they can take another action.  While this is the most realistic of the systems and fun when all the players (not necessarily the NPC's) have the same action counts, woe is it to be the archer or a player with a high tick attack action– because you sit there waiting and waiting to take an action, only to take one and have to wait and wait again.  While the tick systems are the most tactically deep, in practice, when you have outliers like someone too fast or too slow, it breaks down in play (i.e.: don't play an archer in Exalted)
As this post discusses, the new Marvel RPG has a hand off mechanic where the player or NPC that takes and action gets to choose who the next actor in a fight is and this is simple and downright brilliant.  There is tactical depth, the ability to team up attacks, the ability to out-manuver your opponents by making them take their turn before they want to, etc.   What's more, this could easily be tacked on to ALL non-tick-based initiative systems and looks to work just as well for social or physical conflicts.  Warhammer Fantasy Roleplay? Yes.  FATE (Dresden, Bulldogs, Anglerre) in all the incarnations I know of?  Yes.  Even in OD&D this could work.  Sure, some skills players have in each RPG may not work with this in some systems, but they could simply be adjusted since the 'actor's choice' mechanic is so simple.