Well four years after starting, I finally finished Dark Souls 2, my second victory over the requirement of getting gud to beat one of the Souls game. I got invaded, I sunbro'd, I used a hint guide I got when I got the game on launch day (which was totally inaccurate most of the time!) I used help whenever I could just to get through it as quickly as possible.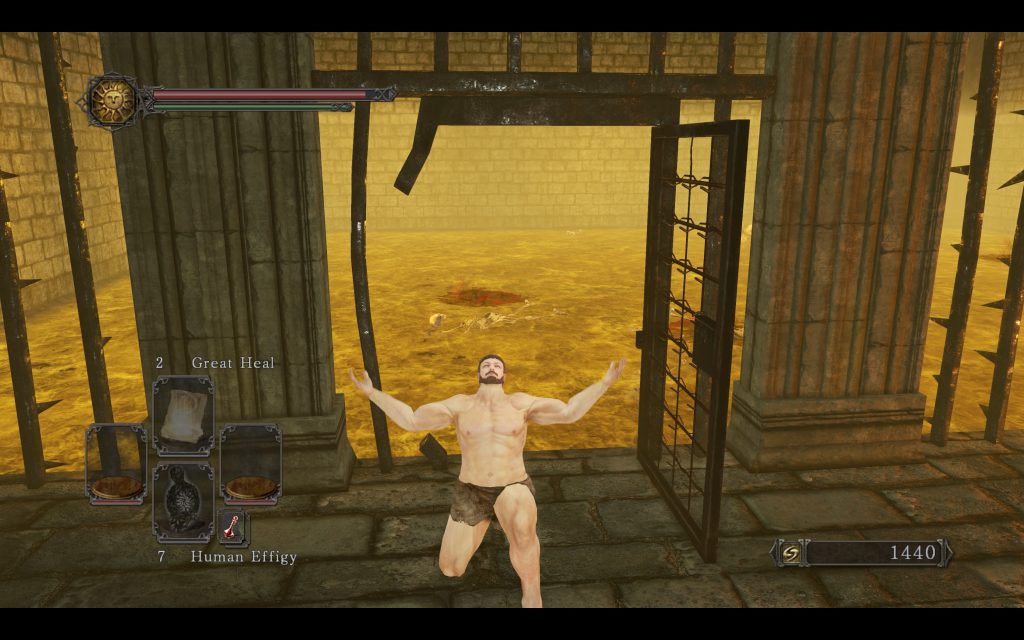 Given that this is a Souls game, and considered the worst of the three, this game still blows nearly all other video games out of the water. It's so brilliant about showing you early what you are going to go up against, teasing you into thinking your are getting the hang of it, and then throwing you into something totally different from what you faced before in order to test your character build, skills and intuition. The game trolls the player constantly and despite what appears to be an entirely bleak and unforgiving game– there are threads of humor throughout the game of the blackest sort.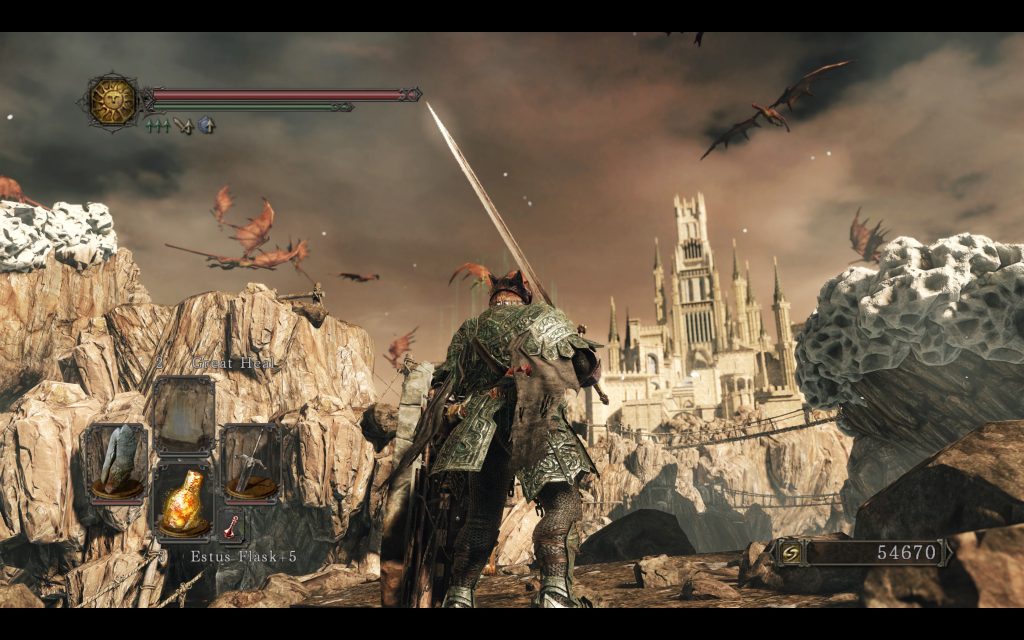 The story in this one felt a bit more disjointed than the first. Not that this will be spoilers but again you have several cities and areas that have fallen to the curse of undeath, and to reverse the curse (on yourself) you have to kill a ton of stuff. This one has giants, dragons, undeads and a lot of these Ogre things that you can't help but shoot in the ass with fire arrows.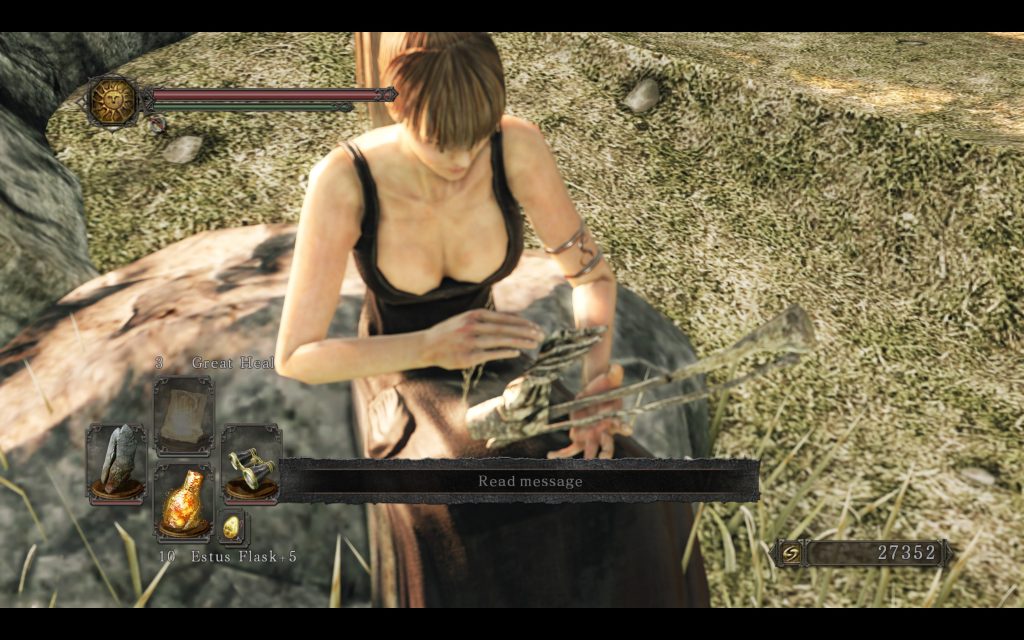 My favorite areas in the game were probably the Iron Keep (think of a citadel sinking into lava) and No-Man's Wharf which was both Spanish and Viking… pirates? There was a part like Blightown from the first game, which was not quite as annoying: again, the developers are trolling you so they have to put in some vertical madness or it just wouldn't be a Souls game.
Boss wise, I really liked the Undead Chariot, despite it being fucking super annoying. The Mirror Knight was really cool (but and easy fight for the most part). The most intriguing boss was the Demon of Song, that got all these undead chicks to sing constantly to draw victims to it, sort of like sirens but they were all tricked into doing it.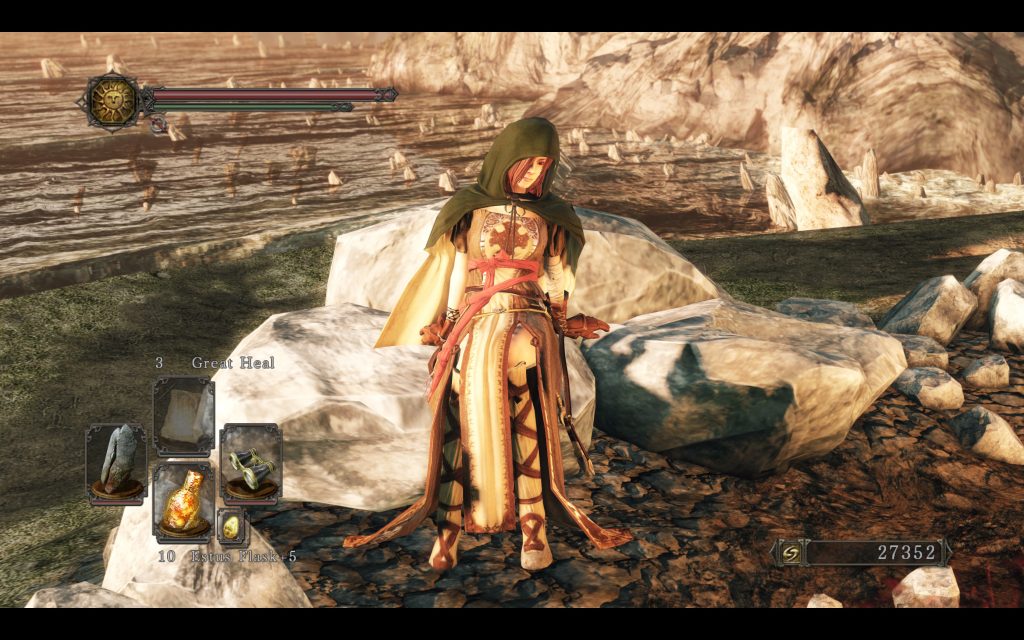 It's also amazing to me how the Souls game still retain tropes that are super common in fantasy games, but it just isn't fucking cheesy. You DO fight a shit load of dragons and you DO rescue a princess from a tower. How plebian can you get? But this is SOULS, so the pain and anguish you had to endure to get there makes none of it cheeese at all. In fact I would say the only thing cheese in the game was my fucking build!
I did a classic tank and spank, with the Gyrm Great Shield (good against fire and physical damage also giving mega poise too) and the black knight greatsword (added damage with strength and faith). I used magic for the first time in a Souls game with heal and greater heal.
So there are some of you that don't try these games because they are hard. YES. To solo a Dark Souls game you need to really ante up. However, the multiplayer in this game really really makes the game more playable if you don't want to be super hardcore. Most of the bosses are very difficult vs just you– but if you bring a friend or rando in there you can waltz through all but the most difficult bosses (Smelter Demon). What I'm saying is that you can do it and don't be shy about becoming human and summoning if you need to. Also, if you are sitting on a shitload of souls and don't want to die at a boss– lay down your summoning sign and give help to others to practice fighting the boss before you go in there in your own game. It really helps.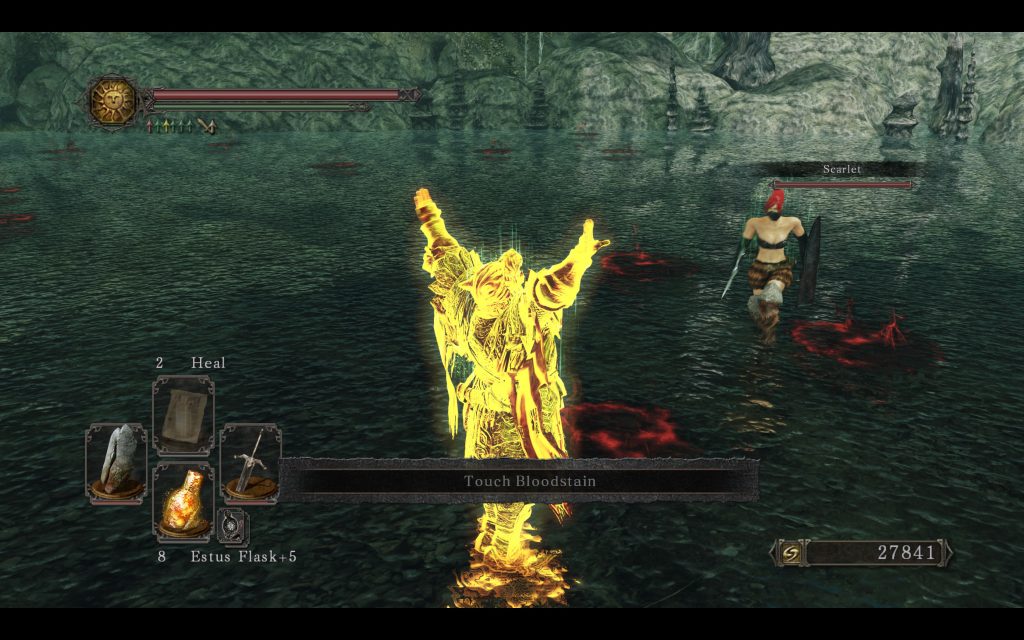 Well, there's a lot people have said and written about these games, and while I liked DS1 better (most of it anyway), DS2 is still an absolute classic that you should push through at least once. It totally stands the test of time graphically and gameplay wise, much like the first one. There will always be a place where you just feel so frustrated you have to stop for awhile, and the game absolutely demands that you learn a ton about how the weapons work, how to upgrade your shit properly, as well as how to execute on the gamepad, so it's not for the casul Devil May Cry/ Bayonetta types (both great games). My next challenge is the (tons more difficult) Bloodborne and then it's on to Dark Souls 3 (in 2-3 years….).