Continuing plowing through a bunch of boxes of stuff, in addition to AT-43, I have a largish Necromunda collection squirreled away, apparently on the hopes that it will get someday played again.  That said, back in the mid-90's we really got into Necromunda (or so we thought), playing 20+ games with the gangs  on an old Ping Pong table set up in our tiny 3rd floor apartment.  As a any good Arbitrator, I desktop published a one-sheet after each week of games.  The name of the the 'village' the gangs were fighting over was "Poop Town" which for years had lived in peace due to pretending there was a plague outbreak were now (in 1996) plagued with Underhive gangs!  If I remember correctly we had Orlocks, Van Saar, Delaques, Cawdor, and the Goliaths.  I have gang sets for all of these as well as a ton of Eschers (thanks mouth), plus Spyrers and even Arbiters.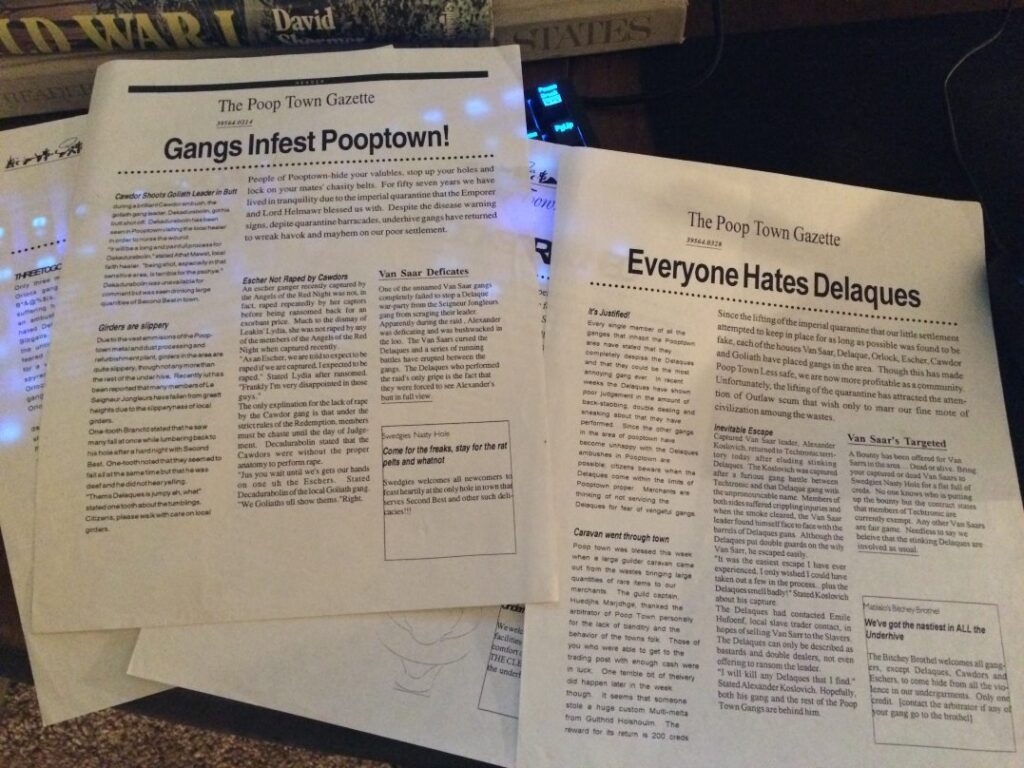 Small blurbs had the following titles:
"Escher not raped by Cawdors" – Any time there is an all-woman gang and members get captured, it begs the question, what is happening to them right now?  Since the Cawdors are 'redemptionists' they apparently have no interest in sexy female underhive residents with guns.
"Van Saar Deficates" – Since the Van Saar leader was taken out in the first turn of the game vs the Delaques,  I decided it must have been while he was going to the loo.
The newsletter included advertisements for local brothels and a lot of phrases about hating the Delaque gang; the "G-Dawgs" which were played by Duvall.  A lot of the stuff referenced the players could interact with in certain ways if they asked about it.
Frankly, these skirmish 'grow your warband' type of games are my favorite miniatures games.  Starting with Chaos Warbands in college, then to Confrontation (the GW game that came out in White Dwarf) then on to Necromunda, Mordhiem and finally Legends of the Old West, which I have collected a ton of stuff for, but have yet to play the main issue being that you need more terrain than miniatures to make it interesting.
Necromunda is no doubt a great game and show the strength of the 40K 2nd Edition rules (that also went on to handle Gorkamorka).  People can scream "Hero hammer!" from the rooftops, but that's just what the core 40K evolved into.
And more ridiculousness.  I have a big box of Man O' War miniatures, rules and chits and have never actually played it.  Got it for pretty cheap many years ago. You can see the fleets, I think it's Empire, Elves and Nurgle with a bunch of sea monsters and flyers mixed in.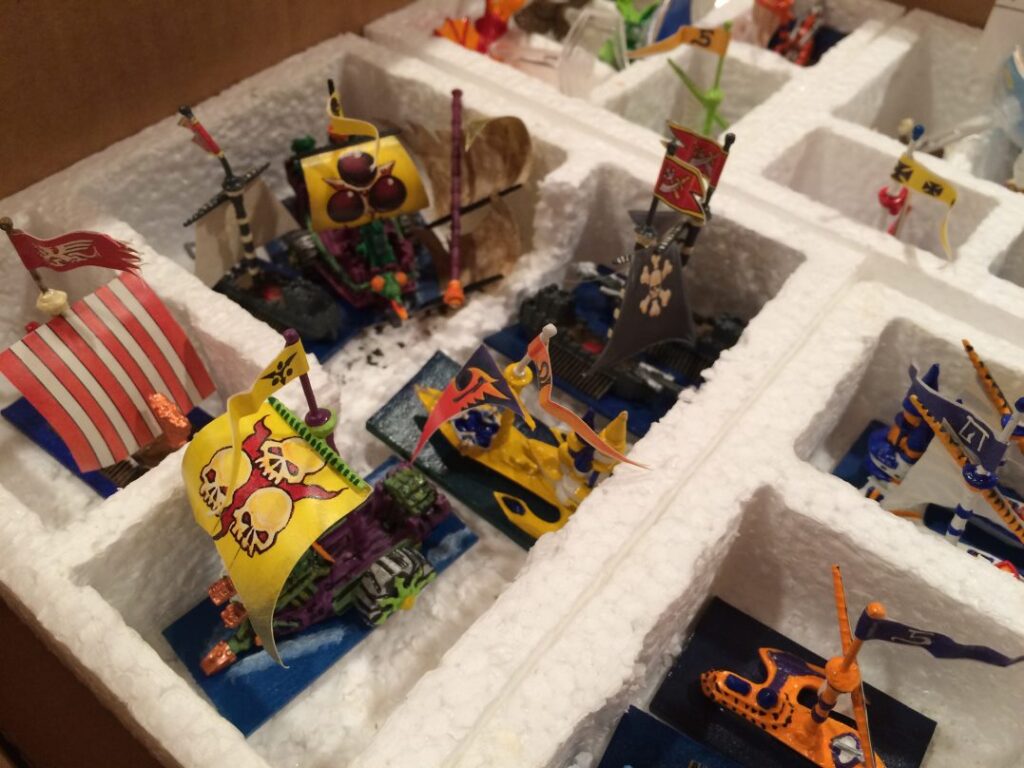 They've definitely been well cared for since I got them, EXCEPT, again that I've never played it.  I think I snapped up the deal on account of some of my college friends cutting up and painting pieces of wood to represent ships just in order to play.  The game (in 1993 or so) was just that good.