My tastes have changed in boardgames since I started playing Root and exploring it's influences (Pax and COIN among others). The games of a certain cloud of designers that have, for me at least, put the last nail in the coffin for the tired, samey design by the numbers point salad games or games pretending to be one thing, but are actually another because of big Ameritrash pieces (i.e.:Scythe). When you head down the Root rabbit hole and try to piece that game together from it's origins, there's a list designers that are huge parts of the puzzle along with Cole Wherle: Volko Ruhnke, the Hollanspeil guys, and of course, Matt and Phil Ecklund (and their team).
On that line, I've been doing some board game trading and selling, trying to both ditch some of the dreck and pair down the PHYSICAL size of games I have. I picked up Bios Megafauna, Bios Origins, Bios Genesis, Greenland, High Frontier and Neanderthal recently, which all have a fairly high complexity level, but tiny little boxes. I can fit nearly ALL of those games in the same space as Rising Sun or any CMON game, let alone the giant coffin box of Starcraft or Twilight Imperium.
While I've bought into these games heavily, they are challenging to learn and as should be required of anything that isn't just for show (and I definitely have games that are just for show), they need to hit the table.
The key to Matt and Phil Eklund's success as designers is taking highly complex ideas and chaotic events and putting them into a extremely playable games for their subject matter where, (amazingly) all of these pieces and parts of mechanics interact with each other in crazy ways. Think Pax Porfiriana is just a tiny engine builder with a bunch of fuck you cards? Play it again and you notice that you are working to control 4 different factions that are struggling against each other during the game as an undercurrent to the conflict between the players. It's a wow moment. It's also a wow moment how EASY the game is to play once you know how. Pax Renaissance is a real beast to learn, but essentially the same thing: small box, HUGE game, easy to play once you know how (except for remembering how each of the wars/revolts work which is hard).
Let's talk about these Pax badboys a bit. The core thing with a 'hard to learn' game is that you need to know before you go into it that you will like it and the effort will be worth it. Not only that, you have to expect that your friends will like it also, at least to give it a shot. People actually play Advanced Squad Leader a lot. It's ridiculously complex, but there's a reason for it's continued existence in published form: it's very good. When you are dealing with an Eklund game, especially a 2nd edition version, you can be sure it's going to have extreme value as a game and that the complexity level and steep learning curves leads to rewards in play. If you can explain it well, your friends with a little patience will like these games. Here's a run down of those that I've played, a few that I've learned and have yet to play and a couple that I haven't cracked yet.
While these are all complex, there are some mechanic similarities that make it easier to learn the others when you've learned one. The most important is the way they handle card draws. It's a bit between random draws (like a Tom Wham game) and totally non random (any euro) in that you can see cards coming down a conveyor before they fall off and out of the game, or in the case of events, take place. Almost all of these games have some sort of market, whether it's for parts of a space ship, mutations or stone age tools.
Greenland
We've only played this 4-5 times now, and it took me quite awhile to learn in order to teach it in a reasonable amount of time; that is, to not annoy players with too much explanation before we started playing.
You play as one of the tribes in competition during the beginning of a big chill on Greenland that left only the invading Thule alive historically– the original Greenland natives (the Norse) fled or died out. You hunt for trophies, food, energy and have to manage your tribe elders that give you special powers. It all seems very complex at first, but once you get over the hump, like all the Eklund's I've experienced, it's surprisingly playable. Elder actions are the most complex part of the game, so if you are going to study the rulebook, that's the section to get to. Players are only managing four resources (people, ivory, iron and energy) and you don't build much of an engine, hence management of these is not complex. If you are going to teach the game, you can start with that as the base.
This game so obviously inspired Sons of Anarchy that SoA is almost a retheme, but unlike Sons of Anarchy, where the opportunities for crime and control increase as the game goes on as you draw tiles, Greenland can get colder and much more difficult to succeed in hunting, building things and surviving as you go, even though you may have tech-ed up a bit or sabine-raided (exogamy) to gain the cultural powers of another tribe.
This is one that I highly recommend pushing through and learning as your first Ecklund game. It is actually quite easy to play and obvious to players what you are trying to do and how to win. It is only a bit more complex than Sons of Anarchy. It is one of Ecklund's games without a map, and I find those to be a bit better than those with a map to deal with so far. Like Porfiriana, the set up time is very quick and you can get right to the action. This is also a dice-chucker which I really love.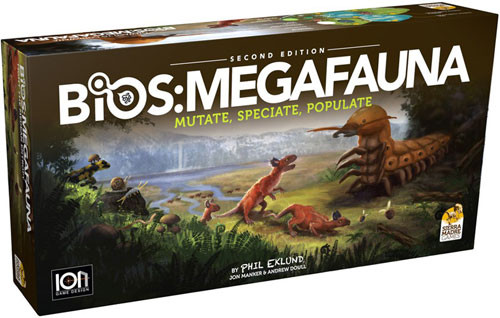 Bios Megafauna
Holy shit. This is an unbelievably ambitions game with a relatively tiny box for what's in there. You play as a species that has just crawled out of the ocean onto land and start to mutate, speciate and populate (like it says on the box). What it doesn't tell you is that this is also a planetary weather, tectonic and exogenesis simulator at the same time. I noticed this from the side of the box: "Fight the Medean entropy." The game also includes an NPC 'villain' which represents single celled organisms that wish the earth to return to the paradise before multicellular life (which is one of the theories around the Permian-Triassic extinction event).
What does this all mean? Not only do you deal with your species vs others, but systems in the game change game state constantly as well, with continents smashing into each other, asteroids hitting, winds shifting and oceans filling with plankton– oh tasty plankton.
Compared to Greenland, this is a challenging game to learn. I think I understand most of it, but 1/3rd of the rulebook is explaining the crazy special events that happen and I don't fully get the mutation and speciation rules, especially emotions (which I think are just Up the Creek / Chaos Marauder type card sets that link to each other).
I think with some work, even kids could play it as long as someone really knew the rules. Even if this comes out once a year only, it will be worth having (like Republic of Rome) and does not take up a lot of space.
As an aside, Megafauna has the 'controversial' essay on global warming from Ecklund. As someone who despises the overuse of plastics, that we still have gas-fueled cars and that we do not have a far more robust nuclear power program to solve ALL energy needs in the first world, I was wary at first, but the essay is thought provoking and not what you think it is. Since 'settled science' is not actually science, almost all of the heat this essay gets by keyboard warriors can be completely ignored, since most are of the propagandized 'if you don't agree fully that global warming is caused entirely by humans carbon emissions, there's something wrong with you' knuckle draggers. While Eklund takes some serious jabs at the media and government (anyone remember the War on Drugs? How about the War on Terror? War on Covid? Are there some similarities here? oh yes) on their stance on global warming, the core of the essay is his belief that it is not only carbon that causes global warming– there are other factors in play, such as sun spot activity, passing through various parts of the Milky way galaxy and the not-so-subtle fact that the planet had a jungle climate from pole to pole for millions of years at one point. Like any good teacher or essay, Eklund's presentation prompts one to think and study on their own, especially if they disagree with it. What's more, in Bios Megafauna, one of the end states of the game is greenhouse overrun, so Ecklund is not saying that it isn't a danger! Anyway, ignore all the idiots that haven't read the essay that criticize it in general to virtue signal or white knight on BGG, rather than attacking the details, they are drones or followers. You will read people attacking the details of the essay here and there, but they refrain from the ad hominem nonsense. Also of note is that these BGG minnows got Ecklund banned from the site.
Neanderthal
This game looks a lot like Greenland and shares some of it's dice/hunting mechanics. Why have or play both? Neanderthal's scale is likely the answer. In the game you play as one of three predatory 'apes' that have just acquired basic language. You have to grow the species until the have enough language skills to become a tribal culture. Each turn represents 40 generations of your species. Like Greenland, the focus is on hunting and acquiring 'daughters' that linguistically advance your species.
I haven't gotten this one to the table, and frankly it will be a long time I think due to already getting players comfortable with Greenland. However, I think this one will be the game I bust out with my kids to help them understand the concepts around the origin of species. I love the fact that if you hunt a biome and there are predators adjacent they will move to that biome and fuck your hunters up!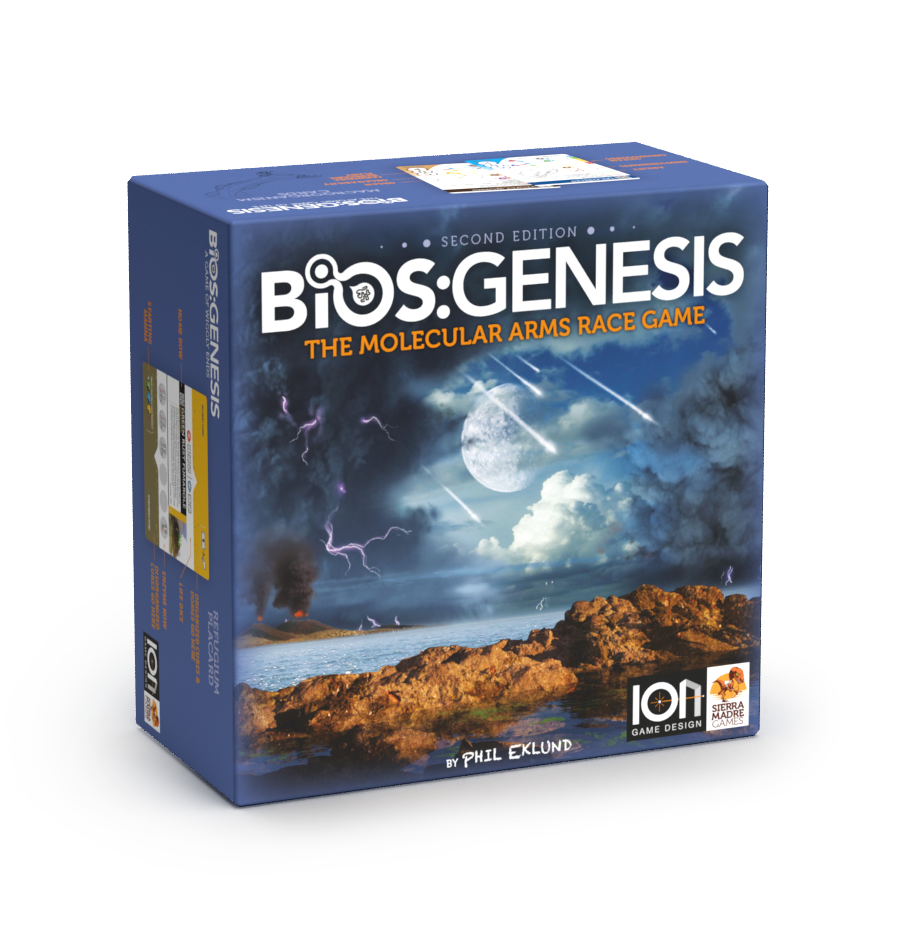 Bios: Genesis
Bios Genesis is one I still have to learn and it's been quite a challenge so far. I cannot imagine anyone taking on a topic like this, and frankly I have no idea how a game like this got made and that the designer was able to focus on just this topic enough to build all these engines that work together. The attention to detail and graphic design is impressive. Fundamentally you are a set of protein chains that are seeking out refugia (places that are amiable to the creation of life) and trying to survive and become multicellular, and then get BIG. This is complicated by other players, naturally, but mostly from an absolutely brutal event deck with heating and cooling, radiation surges, cancer, volcanic eruptions, on and on. If you can get through the rules, this is supposed to be a fantastic game.
Bios: Origins
This is Ecklund's answer to the Civ game genre. The twist here is that you lead a species of predatory apes advancing through very early technology and migration as the species and not as some divine leader or autocrat. I've learned this one but haven't played it yet. This seems like a beast but there are some recognizable parts from other games that are buoys in the storm, like an easily understood market, a set of slots for potential cities that doubles as a score track and of course, a crazy map where both the edges of the hexes and the insides of the hexes are important all at once. I need to get this to the table.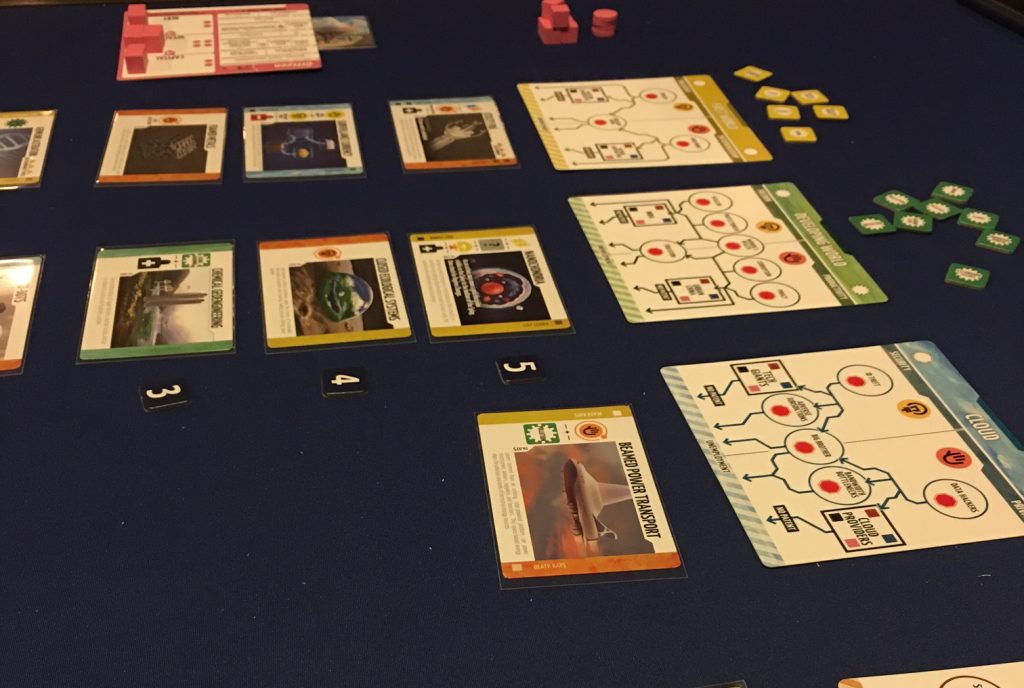 Pax Transhumanity
We have now played this enough for me to be able to write a review of it. This is a near-future business simulation game where you play as entrepreneurs and try to make the most out of rapidly advancing technology to solve core issues that humans in general deal with (like hunger, which if you are reading this, you probably have never experienced, but right now, many people are), and pollution.
This is challenging to learn and not something that will hit the table a ton, but it's a solid game and very interesting to play once you get the hang of it.
High Frontier
This is the holy grail of Ecklund's designs and what appears to be his most complicated game. You are a corporation trying to get into space and exploit resources in the solar system– and you do this by building your rockets in order to make the trips you want to make and carry the things you need to carry. Think Merchant of Venus but you have to get your ship outfitted first with technology your species doesn't possess yet.
All bow to the map for this one: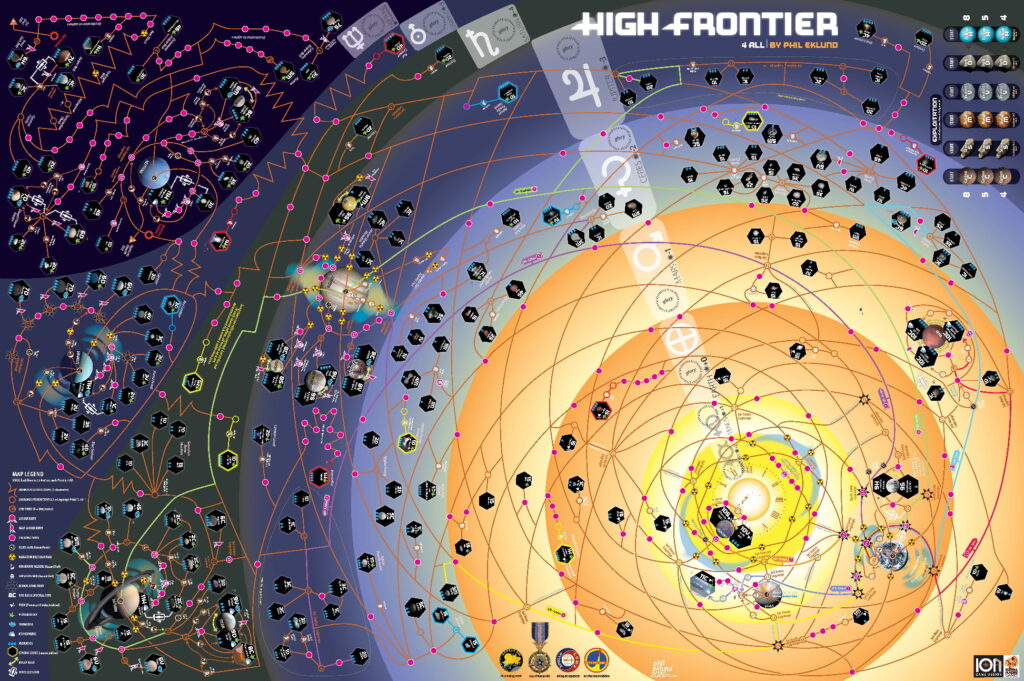 If you are looking for help learning any of these games, look no further than this fine Wisconsin lad (here explaining Matt Ecklund's Pax Transhumanity).