After about 9 months of slowly collecting and reading the Invincible series, I was looking around for something GOOD in the comic store. There are tons of excellent comics tucked away between all the endless trash that comes out every month, but you have to search for them. While amazing art abounds, good or even passable writing is VERY hard to find in comics these days. I was looking for issues of the GODDAMNED (a story about Cain pre-flood that was pretty solid in the beginning) and came upon SPACE BASTARDS.
Space Bastards is a multi-writer, multi-artist affair and usually I hate those types of titles, the lack of a consistent artist to me is usually super annoying (BPRD and SUPREME by Image comics are good examples of this). However, Space Bastards has good artists, not all of them I like or I think are fit for the material, but there are a few that just NAIL it, like the esteemed Simon Bisley. I gave it a shot and the first issue I read was #6 and it had a part that I laughed out loud at– read again and laughed again. That has happened so rarely in most comics (with the exception of Groo!) that I can count the incidents on one hand. The story is a biopic about Chuck "Magic" Wagon and how his alcohol fueled rampages lead him to join the Intergalactic Postal Service; which is what the overall story is about. This particular comic goes completely off the rails as Chuck Wagon spirals into drug induced madness from which he never recovers. If you only read one issue, this is it.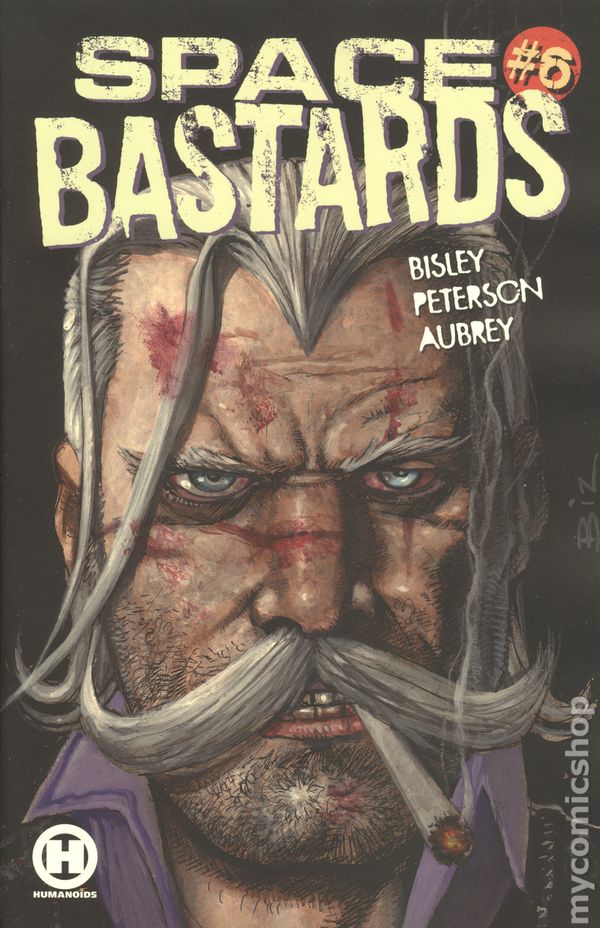 Later issues concern the meta-plots more and having jumped in mid-series, I'm not super sure what's going on, but that's half the fun. Number 8 starts with an incredibly long rant/speech by one of the characters which is normally something comic readers can rarely abide, but this shit is psychotic and sociopathic GOLD. Not only are the characters violently insane for the most part, they are manipulative, capricious and none of them trust each other. While this is no League of Extraordinary Gentlemen with it's both subtle and overt betrayals, it's extremely compelling to just not know what the hell some of the characters are going to do and say at any given moment as they are prone to bouts of complete madness and mental breakdown. Recommended.