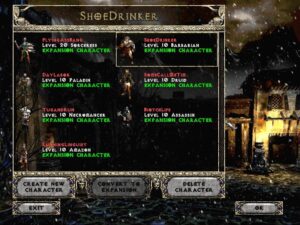 shoedrinker hit lv20! fucking not too hard really. a barbarian is built to take the damage while punching everything until it disappears into the crowd.

there's a nice lv10 to lv20 breakdown picture above, click it to see all the dirty character details. i think it is interesting to see how a hardcore character in diablo 2 changes after ten levels of play. i'm playing a double fisting sword swinger, so all my skill points are going towards the hard hitting skills like bash, double swing, stun, concentrate.  i mainly use double swing, and throw in some bashes, stuns and concentrates. lv17-20 i was just crushing shit with concentrate. i'm holding off on weapon specialization skills until i'm sure i know what type of weapons i want to use long term. i don't care about the war cries at all, will this doom my barbarian?
i have a ring of +9% magic find, which really seemed to make a significant difference, i am surprised by this. i found 3 set items with the shoedrinker while flyingassbang found zero. could it be that each +9% magic find??? i can't be too sure right now, more play time with the other characters will tell perhaps. the set items at this stage seem pretty fucking nice and that rune word'd sword fucks shit up bad. i'm not sure if having over 1000 attack rating is pretty normal for a lv20 barb, or if i'm ahead of the curve.
here is a video of ShoeDrinker killing boss monsters on his way from lv10-20.
shoedrinker's resistances are HORRIBLE.  lightening enchanted shit almost killed him 2-3 times, and we're talking normal shit not even unique stuff.
next up is TugandRun the nerco! i have a bad feeling he's dooooommmmmmeed.